DHA Bahawalpur Balloting News Update – Location, Map, Plots Files Rates, Features and Development
by UPN
July 19, 2018
0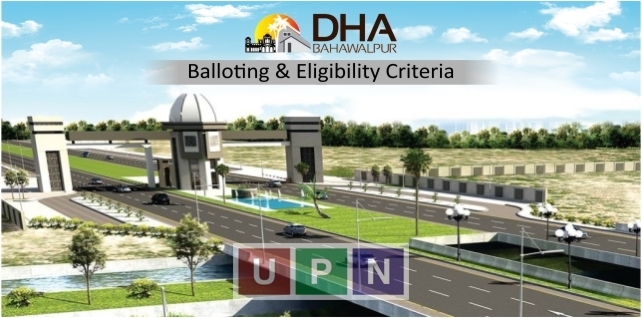 DHA Bahawalpur balloting is long awaited by files holders but their wait is about to end soon hopefully. DHA Bahawalpur will most likely hold first balloting in the second half of 2018 which means they have to wait a little more now. The administration has asked all customers to get their allocation letters ready for balloting at their earliest because they are planning to conduct it in second half of this year. The management looks determined for its intention and we will have to see if it stands by its words. However, this is proposed time frame for balloting and they have all rights to alter or extend it.
DHA Bahawalpur Balloting – Files Eligible for Balloting
DHA Bahawalpur files whose allocation letter is ready are eligible for this balloting. Those who have received their allocation letter or converted their intimation files to allocation need not to do anything. Their files will be included in the balloting guaranteed.
How to Get Allocation Letter & Make Your File Ready for Balloting
To get your files ready for balloting, please follow the procedure and guidelines given below.
Get hardcopy of DHA Membership Form, fill it out carefully and attach copies of CNIC and Intimation Letter along with two (02) photographs.
Pay membership fee and submit this form along with above mentioned documents in DHA Bahawalpur Main Office or any sub office (Lahore, Karachi, Rawalpindi) as per your choice and convenience.
After 15 days you can get your allocation letter from the same office of DHA Bahawalpur where you have applied for this letter.
Those who have already submitted membership fee but have not collected allocation letter must ensure two things.
If their Allocation Letter is ready or not
In case if allocation letter is not ready, please check if the deposited fee has been properly credited or not.
Important Message for DHA Bahawalpur Customers
For all customers of DHA Bahawalpur, getting allocation letter against their files must their first property. Overseas Pakistani who cannot collect their allocation letter must verify if it is ready or not by contacting DHA Bahawalpur via call or email.
For more information and updates of DHA Bahawalpur Balloting real estate sector, keep visiting Universal Property Network (UPN).