DHA Bahawalpur Groundbreaking of Mosque, School, Park and Commercial Area
by UPN
July 24, 2018
0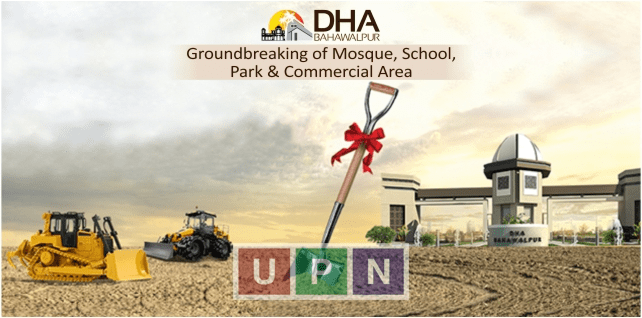 DHA Bahawalpur is state-of-the-art housing project currently in the development phase to provide luxury lifestyle in its premises. DHA Bahawalpur Villas (Sector D) is set to become an an exclusive option for high-end living. The administration of this project is dedicated to deliver as per its commitments and focused on speedy development. To build DHA Bahawalpur Sector D (Villas Community) to perfection, the management is geared up to start construction of basic public facilities in the area. DHA Bahawalpur balloting is already in the plans and now heading towards another milestone. The official facebook post has hinted about a good news coming up on 24th July and here it comes.
DHA Bahawalpur Groundbreaking of Mosque, School, Park & Commercial (Sector D)
DHA Bahawalpur is all set for earth breaking of a grand mosque, primary school, park and commercial area in its Sector D today. This sector (Villas Community) is said to be on top of other options for its iconic setting and best of town planning. Now administration is starting development activities for four major amenities which will definitely give a boost in investments. As a great option for local and overseas investors, DHA Villas will feature first class facilities, outstanding services and construction/infrastructure standards.
In the groundbreaking ceremony, top management of DHA Bahawalpur will be present and kick start the construction activities. To make it livable in the next year or so, equal and undivided attention is needed for all sectors and it seems that things are going in the right direction at right pace. However, it has to move towards completion quickly as development of villas is underway on the parallel basis. The inhabitation is only possible when these basic facilities will be available in the community.
Impact of Groundbreaking & Development
The impact of this recent development would be quite significant as balloting of DHA Bahawalpur files is also expected later this year. Both factors combined will increase investors' interest and investment volume will increase consequently.
For more information and latest updates, please keep visiting Universal Property Network (UPN).