DHA Gujranwala – Get Intimation Letter Yourself or by Representative
by UPN
April 30, 2018
0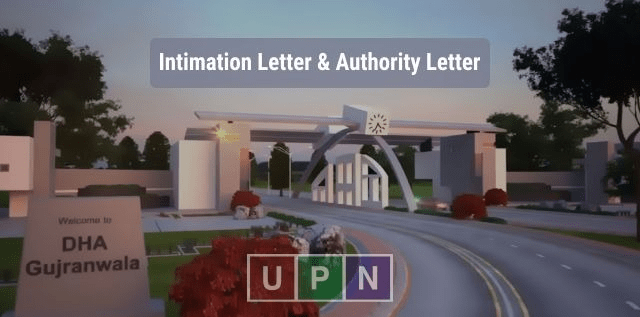 DHA Gujranwala has done with the balloting of 5 Marla plots and now quickly moving on to the next stages. The plot-files' owners are completing the due procedures like getting intimation letters of their plots which is in process currently. The administration has kept its customers at ease throughout this journey and also made it convenient in collecting intimation letters. Earlier, the last date for depositing down payment of DHA Gujranwala 5 Marla plots was extended upon request from successful applicants. DHA Gujranwala has allowed that one can receive intimation letter on owner's behalf via authority letter issued in his/her name.
DHA Gujranwala Intimation Letter
The intimation letter for DHA Gujranwala 5 Marla plot files are ready to be collected from project office. One can collect it during the office hours on any working days of the week in person or via representative. The administration has formulated a procedure in this regard and authority letter is available on DHA Gujranwala's office website.
DHA Gujranwala Authority Letter
Those who cannot visit Office for collection of intimation letter some certain reasons can get it by representative. The customer (owner) can authorize a person for getting intimation letter on his/her behalf via this authority letter (downloadable).

Procedure to Get Intimation Letter via Authority Letter
The authority letter dully filled and signed by owner and the nominee mentioned will be submitted in DHA Gujranwala office. After cross checking, verification and confirmation over the telephone from owner, intimation letter will be handed over to representative.
5 Marla Plots – Future Prospects
DHA Gujranwala had already dominated property market of the area right from the start. Now after 5 Marla plots balloting, this market has even escalated further. Those who have bought these files earlier are now in a position to cash the opportunity. Smart buyers are investing in this market right now to get the long-term benefits. In days to come, price of 5 Marla plots will increase rapidly after development as it is on rise now.
For further details, please keep visiting Universal Property Network (UPN).
If you are interested to buy 5 Marla plots in DHA Gujranwala or want to evaluate or sell your balloted plot, then feel free to contact our realtors:
Haris Ahmed 03211127774
Omer Butt 03211125552
Iftikhar Ahmad 03211133347
Waqas Gulzar 03211197771