DHA Lahore Signal Free Corridor from Walton Road to Phase 5 Completed – DHA Lahore Update
by UPN
June 21, 2018
0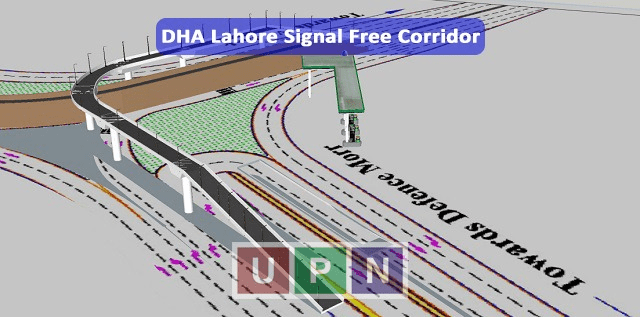 DHA Lahore is one of the most vibrant residential communities of the country housing a number of people. The traffic congestion within DHA Lahore and its messy flow inwards and outwards has been problematic for residents and visitors in the past. The authorities were concerned over this situation and wanted to fix these issues as soon as possible. For smooth traffic flow and easy access, the administration came up with the idea of DHA Lahore Signal Free Corridor from Walton Road to Phase 5 last years. Now after five months of construction in collaboration with Maaksons, this project has been completed and it will end up traffic mess in this arena.
DHA Lahore Signal Free Corridor
DHA Lahore Signal Free Corridor is 5 km long from Defence Mor Walton Road to Lahore University of Management Sciences (LUMS). It includes two flyovers and three underpasses while a control room has been established for traffic management. The entire route will be monitored through 150 CCTV cameras and 350 cameras installed under Punjab Safe City Authority will also be integrated to this monitoring system. Apart from underpasses and flyovers, Lalik Chowk has been remodeled as well. For traffic management, officials on heavy bikes and vehicles (patrolling) will be designated as well.
Walton Road: Flyover From Defence Mor to Main Boulevard (For Signal Free Exit from DHA, Open Now)
PSO Chowk: Underpass and Flyover to DHA Phase 3 towards Y Block
Masjid Chowk: Underpass (Open Now for Traffic)
Ghazi Road: Underpass
Lalik Chowk: Remodeling & Upgrading

The advantage of DHA Lahore Signal Free Corridor
DHA Lahore has facilitated its residents and visitors with an easy access without the hassle of the traffic mess. Before this corridor, it uses to take 25 minutes to travel from Walton Road to DHA Phase 5. It will turn out to be a great development to give the sigh of relief to daily commuters as the same distance will be covered in 3 to 5 minutes now.
For more information and latest updates, please keep visiting Universal Property Network (UPN).