Al-Kabir Town Phase 2 – Big Announcement about Open Forms Submission
by UPN
June 11, 2018
0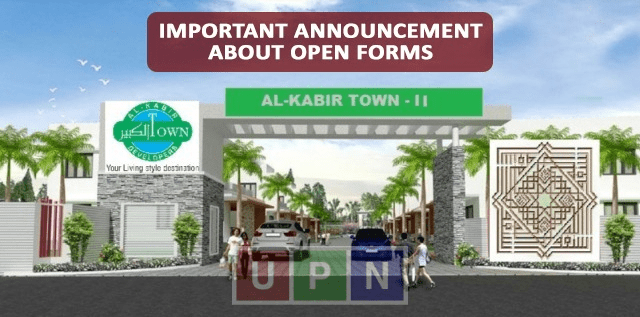 Al-Kabir Town Phase 2 open forms' submission was in process for quite some times in selected blocks. Recently it got technical approval from LDA (NOC) to carry on development activities. Ali Block balloting and map launch was done a couple of months ago. In the mean while, it also offered new deal of Umer Block so seems it's all happening here in right direction. This time the management has hinted for a policy renewal about open forms submission and till then open forms' submission has been put on halt in some blocks. Al-Kabir Town management has issued a public notice in this regard.
Al-Kabir Town Phase 2 Notice about Closure of Open Forms Submission
Al-Kabir Town Phase 2 open forms submission for Blocks A, B and C has been closed. In a notice circulated by Al-Kabir Town, the management has informed all dealers and customers about this decision.  It has also been cleared to the addressees that no open form will be submitted til the new policy is announced.

New Policy of Al-Kabir Town Open Forms Submission
The notice also states that time frame when the new policy of open forms submission will be announced. Dealers and customers won't have to wait for long as expectedly management will finalize it till Ist July and it will be announced right after any time.

 Development Works in Al-Kabir Town Phase 2
The development activities are underway on site in Al-Kabir Town Phase 2 includes sewerage work installation. Now when it has got partial approval from LDA, things will pace up the upcoming days and it will come into shape very soon. With development along with approval on the cards, Al-Kabir Town is turning out be a well poised opportunity for investors. It will increase investment volume as it is one of the most economical options at a prime location.
For more information and latest updates, please keep visiting Universal Property Network.