DHA Multan Coming up with a Special Mixed-Use Commercial Project
by UPN
February 24, 2018
0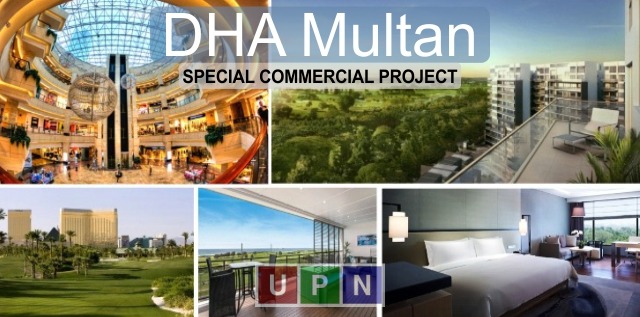 DHA Multan offers a lot of options to the locals in residential and commercial sector along with community features like a self contained city. DHA management is now quite focused towards the development of this mega project and paced up the activities on ground. Now when things are finally moving in the right direction gradually, a surprise addition is coming up into this landscape very soon. A hi-tech, mixed use commercial project will be part of it soon as administration has called for expression of interest (EOI) for this new venture.
DHA Multan Invites EOI for Mixed Use Commercial Project
For this mixed-use project, DHA Multan has invited expression of interests (EOIs) from competent local and international firms/groups/consortia for prequalification. The developers with expertise and proven track record of developing such projects have been directed to submit their proposals. The last date for submission of proposals for this development project is 30th March while terms and conditions will be decided with mutual consensus in the next stage after short listing.
Location of the Special Commercial Project
The special commercial project will have the best location on the 300 ft wide Main Boulevard. Already planned 18-Holes Signature Golf Club will be adjacent to this complex offering mesmerizing views of the gold course from window. The land parcel has been already earmarked and development work to commence right after awarding the contract to any of private developers.
Mixed Used Commercial Project – Details
The possible components of this project will hospitality, retail, corporate offices and apartments. One of the basic criterions is that developers must have relevant experience in the similar capacity. However, not much detail has been made public and we will keep you posted with the latest progress in this regard.
This new project announcement and development undertaking on site in DHA Multan indicates some more positives in the future. Plot files holders should hold it for sometime as property prices are going to be increased in upcoming months.
For more updates and information, please keep visiting Universal Property Network (UPN).