DHA Multan Signature Golf Club development to Start Soon
by UPN
February 28, 2018
0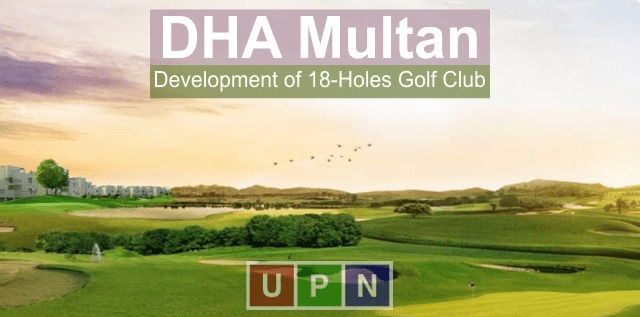 In the recent past, DHA Multan embarked on the journey to develop some major projects inside it which were promised to residents earlier. It includes DHA Nursery, DHA Multan Villas, Event Complex, Education City and Medical and Healthcare City. Some of these projects like first ever event complex in DHA Multan and nursery are near completion while development on villas is in progress. Rest of the projects will be completed by the passage of time through dedicated development work. Last week it announced a mixed-use special commercial project and invited EOIs (expression of interests) for prequalification. Alongside the location of this commercial development venture, DHA Multan intends to build a signature golf club and now preparations are underway to start its construction.
DHA Multan 18-Holes Signature Golf Club
DHA Multan is planning to build a 18-holes golf club with equipped with all latest facilities. This Signature Gold Club will be located alongside 300 ft Main Boulevard close to newly proposed commercial complex. Currently, DHA Multan management is reviewing the development requirements in consultation with some private developers and discussions are in process to finalize the plan.
DHA Multan Meeting with Shaikh Holdings and UW Group
Recently, a discussion meeting was held between DHA Multan, Shaikh Holdings (UAE based) and UW Group regarding development and feasibility plan of Signature Golf Club. Project Directors DHA Multan Brigadier Nadeem Aslam briefed about the requirements of this project and their preferences. The participants of both companies appreciated DHA Multan efforts soon DHA administration will reach to a decision and will come up with initial plan later on. We will keep you updated as soon as final details are received at our end.
Mixed-use Commercial Project & Golf Club to Complement Each Other
With both projects lying adjacent on the same location, these will complement each other. The visitors or apartment holders will have scenic views of gold course while Golf club members will have a number of opportunities at their next door. The commercial aspects of these projects are equally favorable for each other.
DHA Multan seems to have a sound development plan and putting all efforts to keep the investors intact. Its recent steps might bring more buyers if development picks up a bit more pace.