DHA Multan Sub Office in Lahore Opening in February
by UPN
January 26, 2018
2 Comments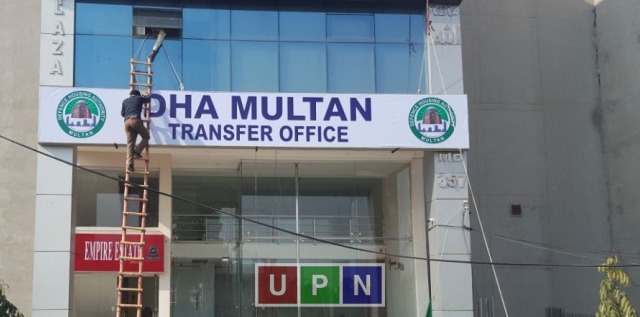 DHA Multan administration has announced launch of a sub office in Lahore. The sub office will start functioning from February 6, 2018 in DHA Lahore Phase 6 near the Nawaz Sharif Interchange of Lahore Ring Road. This means that buyers and clients will no more be travelling to Multan for transferring of plot files. DHA Multan Plot files can be purchased/sold/transferred by paying a simple visit to Lahore sub-office after it is launched officially next month.
DHA Multan Sub Office Address
DHA Multan's sub office in Lahore will be located near the DHA Lahore's Main office. It will be situated on the Mezzanine Floor of Commercial building number 357-MB in DHA Phase 6. Once the sub-office is open for general public after February 6, 2018, it can be contacted through following landline numbers as well: 042-37132825 and 042-37132826.
DHA Multan Development
Development process in DHA Multan is going on at steady pace. Underground electricity system is being laid out right now in the grand residential project. DHA Multan's own grid station is being competed to provide uninterrupted power supply. Recently, DHA Multan administration signed MOU with SICAS for opening its Kids Campus in the housing scheme. According to the MOU, this pioneer institution of DHA Multan's Education City will commence its first session in 2019.
DHA Multan Villas are also being developed at steady pace and grey structures of quite a few villas are already visible onsite. Different land development firms and builders are currently assigned different locations in DHA Multan to complete development work. These firms include Bodla Builders, ZKB Pvt. Ltd, FWO, NLC and Tahir Builders. Construction of DHA Multan Event Complex is also underway and it is expected to be completed in next 3-4 months.
DHA Multan management has vowed to make the grand project livable by 2019. It means that investment at this time in DHA Multan plot files can be vey beneficial for buyers. 5 Marla, 10 Marla and 1 Kanal plot file are available in DHA Multan at a very reasonable amount of own. If you are interested to buy plot files in DHA Multan, then contact Universal Property Network. We will help you buy an ideal plot file at market competitive rates.