DHA Multan Villas – Last Date of Submission of Application Form
by UPN
September 4, 2018
13 Comments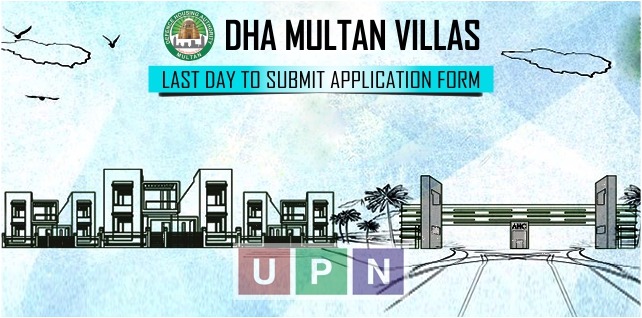 DHA Multan Villas promises a blissful future ahead, with a place where before you, your heart is destined to ride. These villas welcome you to a luxurious lifestyle and complement your accommodation needs. Amenities like Masjid, Community Centre, Shopping Mall, Golf Course, and SICAS Campus will be featured in this project. The community living will be at its very best once inhabitation will start here in future. After the formal launch, it gets into the booking phase for a limited time frame. DHA Multan Villas application forms can be submitted till the last date fixed by project owners.
DHA Multan Villas Application Form Submission Deadline
Hurry up guys if you are willing to buy DHA Multan Villas, get your booking done in time. The last date for submission of DHA Multan Villas Application Form is 28th September 2018. After the deadline mentioned, application form will not be accepted. The opportunity is awaiting you, avail it at your earliest.
DHA Multan Villas Application Forms Availability
A number of potential buyers still don't know from where to get DHA Multan Villas Application forms for booking. These application forms are available at selected branches of five banks mentioned below.
Askari Bank Limited
Faysal Bank Limited
Meezan Bank Limited
Muslim Commercial Bank Limited
Bank Islami Pakistan
DHA Multan Villas Online Application Forms
Since DHA Multan is a mega project and already a number of overseas clients have invested in its plot-files. To cater them, DHA Multan Villas Application Form is available online and both local and overseas applicants. Both have been provided facility to submit their application online on DHA Multan official website.
DHA Multan Model Villas
Those who are interested in buying DHA Multan Villas must visit and see model villas as sample. DHA Multan Model Villas are now open for general public to visit from 10:00 Am to 6:00 PM.
For more information and updates, keep visiting Universal Property Network (UPN).