DHA Quetta Launching Soon
by UPN
January 11, 2019
0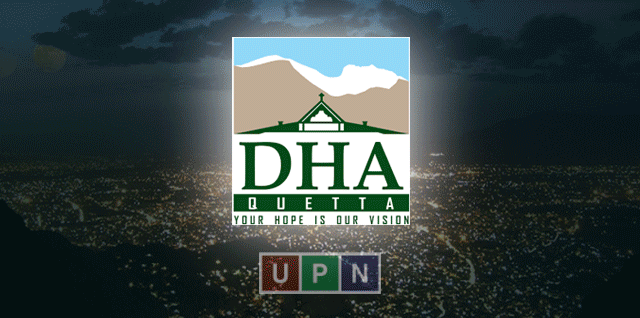 Brigadier Javed has assured that DHA Quetta will be launched soon. The business and real estate communities have already shown their interest.
For the introduction of DHA Quetta, an event was organized by asset and corporate estate management. Land providers were also there at the event and it was organized at DHA Golf & Country Club. It will be the first DHA project in Baluchistan.
Some Notable Guests in the Event
The chief guest of this event was Brigadier Muhammad Javed Iqbal, who is also the administrator DHA Quetta. There were also few other notable personalities that made the event more graceful.
Some of the famous names included Mr. Raja Mazhar (President DEFCLEREA), Madam Tahira Ather Naseem (V.P DSRA), Mr. Hassan Bakshi (Chairman ABAD), Engr Daroo Khan Achakzai (President FPCCI), Mr. Bashir Memon (V.P Federation of Realtors) and Mr. Junaid Makda (President KCCI).
Along with them, the event was graced by Mr. Younus Rizvi (Joint Secretary DEFCLAREA), Mr. Zubair Baig (V.P DEFCLAREA), Mr. Jauhar Iqbal (General Secretory DEFCLEREA), Mr. Raheel Rinch ( Convener ABAD along with other members), Mr. Abdul Karim Adhia ( Vice Chairman ABAD), Haji Jamaluddin SVP PAJCCI, Mr. Waheed Ahmed (V.P FPCCI along with other members), Mr. Zahid Iqbal (Chairman Central Standing Committee for Real Estate Planning and Research FPCCI) and Mr. Asif Sum Sum (Head of Real Estate and Housing Committee K.C.C.I) with the other management committee members of KCCI.
Modern Residential Structure of DHA Quetta
A detailed briefing to the guests was given by Brigadier Javed Iqbal, who was the chief guest of the event. Mr. Javed stated that this new project will be built on the basis of many facilities like educational, health and allied. It will also encompass the modern residential structure. People of all domains will be facilitated with business and residential facilities. He highlighted the issue that Baluchistan needs a modern housing society for giving a boost to modern lifestyle. After passing the ACT from the assembly, the idea of DHA Quetta was formed in 2015 in order to meet the needs of Capital of Baluchistan, which is the largest province of Pakistan.
The participants of this event were hopeful that DHA Quetta is going to be successful as well as the beneficial project of not only Baluchistan but also of Pakistan.
For offering the municipal and housing amenities to Defence neighborhoods, Defence Housing Authority or DHA is known to be the luxury project for the residents of Pakistan. Its localities are in Lahore, Karachi, Peshawar, Bahawalpur, Islamabad-Rawalpindi, Gujranwala, Quetta, Multan and Nawabshah. DHA is not only famous for its infrastructure but the facilities help the residents to live comfortable lives.
If you are planning to invest or looking for land in DHA, it is the best time to call Universal property network. With the help of our experts, you will be able to get the best guidance. UPN is the biggest real estate network in Pakistan that exhibits the suitable and reasonable payment plans, all mentioned on the website in UPN Latest News section.