DHA Quetta Latest – A Quick Overview of the Project
by UPN
December 30, 2017
0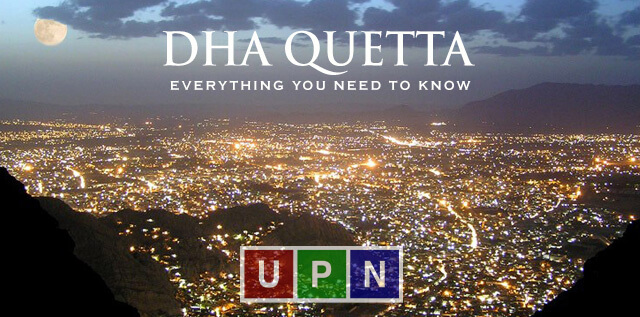 DHA Quetta will be the second project by Pakistan Armed forces in Balochistan, after the launch of Naval Anchorage Gwadar in the port city. Although, there is still no official word available regarding DHA Quetta booking or launching date, but the year 2017 was filled with speculations regarding the housing scheme. In the below lines, you will be provided with all the details about the project and its reality.
DHA Quetta Bill in Balochistan Assembly
To give a legal status to DHA Quetta, its various functions and administration, a legislative bill was passed on October 2, 2015 by Balochistan Assembly. The structure for DHA Quetta Governing Body and Executive Board was explained in the bill. The Commander Southern Command, Quetta will head the both bodies according to the DHA Quetta Act.
DHA Quetta Website & Pak Army Response
DHA Quetta was in the headlines right from the start of 2017. A private real estate marketing company launched a website by the name of DHA Quetta for providing information to interested buyers. Pakistan Army, through ISPR, responded that until there is official launch of the project, no such marketing gimmicks can be allowed. The website was taken down afterwards.
Only a few days after the incident, an official advertisement was published by Pakistan Army, asking from general public to submit their suggestions for DHA Quetta logo and moto. This validated the news that actually such a project was in the pipeline for future launch in the provincial capital.
DHA Quetta Office and Staff Hiring
After 6 months of indirect "announcement" of DHA Quetta, another advertisement was published in 2017 by Pakistan Army. In this advertisement, vacancies for a new DHA Quetta Office were announced. Staff vacancies announced included positions like Director Finance, Direct Information Technology, Legal Officer, Manager Personnel, Surveyors, Estate Land Officer and many other general positions.
DHA Quetta Land Acquisition
DHA Quetta again attracted limelight in the month of July when Senate's Standing Committee on Defence approved a land acquisition report for DHA Quetta. According to the report approved by legislative body, Balochistan Revenue Act needs to be amended to make payments for DHA Quetta land.
DHA Quetta Location
There are many rumors circling the real estate market regarding DHA Quetta location. But there is hardly any concrete evidence available regarding the exact location of the housing scheme. It is highly probable that the project might be located near Quetta Cantt just like the recent launch of DHA Gujranwala.
What's next for DHA Quetta?
          All the news updates and information available regarding DHA Quetta points towards the fact that the project is stuck in the legislative limbo, for now. As an entire revenue act needs to be amended by provincial assembly and with upcoming elections distracting the attention of lawmakers, nothing can be said for sure about the fate of DHA Quetta.
For any further updates regarding DHA Quetta or any other real estate project of Pakistan, kindly sign up for our free newsletter.