Different Sizes Villas on Installments in Bahria Town Karachi
by UPN
February 13, 2021
0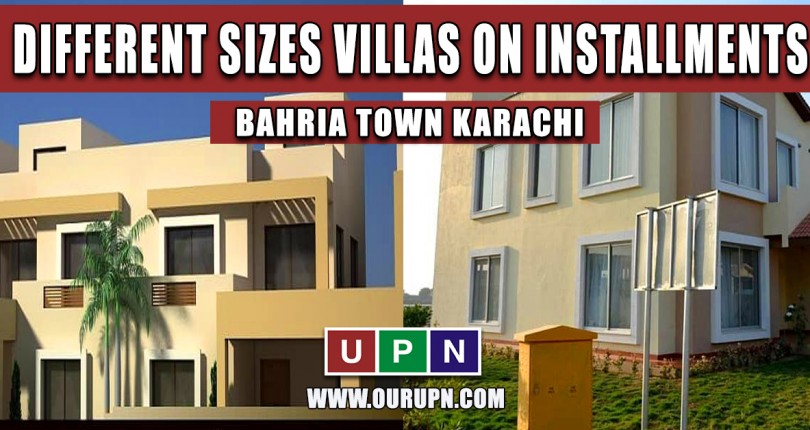 Have you missed the chance to buy the several sizes of villas such as Quaid Villas, Iqbal Villas when available in installments? Or are you looking to buy the best villas in Bahria Town Karachi in installments and searching for the best options? If yes, then be happy as we have the best options available for you! We are now offering you an opportunity to reside in Bahria Town Karachi's luxurious villas by paying in installments? How and where? Let's find out!
125 Sq Yards Villas on Installments in Bahria Town Karachi
The best 125 sq yards villas for sale in Bahria Town Karachi are available for sale in Precinct 12. Also known as Bahria Town's heart, Ali Block is an excellent choice to buy this category of villas. A large number of houses are developed, and families are residing there.
We are offering luxurious villas of 125 sq yards in this precinct on a customized payment plan. You can buy the already constructed villas in installments or choose a plot of your choice to construct your dream home. Both the general and category plots are available.
We will pay your property's price; we will do construction over it, and you will pay it in installments.
The estimated prices of a 125 sq yards villa in Precinct 12 are 1.30 crores to 1.40 crores that are 100% as per the market prices.
Booking of the villas starts with a 30% down payment. The remaining amount will be payable in a customized payment plan of 1 year, 2 years, or 3 years depends on your choice.
250 Sq Yards Villas on Installments in Bahria Town Karachi
You can also buy the 250 sq yards constructed villas on installments in Bahria Town Karachi. These villas are available in the price range of 2 crores to 2.70 crores. Villas of 250 sq yards can be easily purchased in Precinct 1, Precinct 4, Precinct 8, and Precinct 16.
Also, you can choose any plot in any of the precincts of Bahria Town Karachi.
Like the 125 sq yards villas, these villas can be purchased on a 30% down payment, and the remaining will be payable in easy installments.
500 Sq Yards Villas on Installments in Bahria Town Karachi
The 500 sq yards of villas for sale are also available with customized payment plans. These villas will cost you between 3.40 crores to 5 crores, depending on the precinct and plot location. You can buy the ready villa or can visit the model villa and go ahead by choosing a plot of your choice.
We will begin the construction of your villa just after the down payment of 30%. The customized payment plan facility is also available.
When the Possession Will be Hand Over?
The possession of your villa will be hand over after the 75% payment of the total amount. You can pay the remaining 25% amount after shifting to your dream home.
So, do avail of this opportunity and Contact Universal Property Network  .For More Information click here or visit our youtube channel