GM SQ Towers – A Mega Project in BTK
by UPN
February 13, 2021
0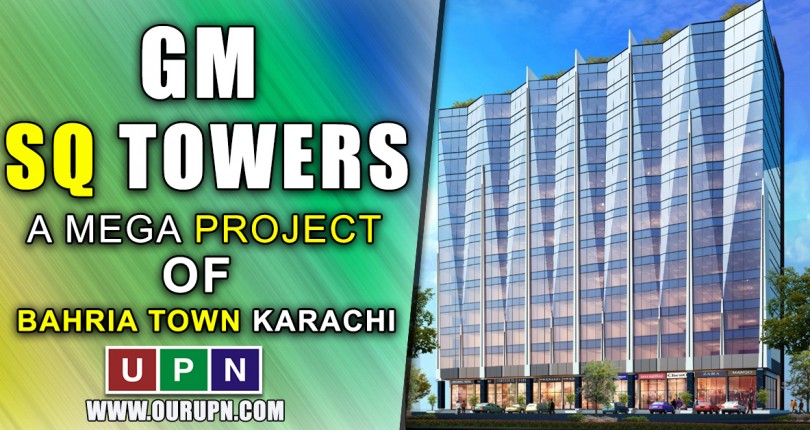 GM SQ Towers is a new and modern commercial project developing in the heart of Bahria Town Karachi. It's a high-rise building project designed and developed under the name of Diamond Homes. Located perfectly in the proximity of Theme Park, this project is offering commercial spaces.  It is not just the right project to invest in Bahria Town Karachi, but a life-changing opportunity to choose confidently. GM SQ Towers offers a wide range of commercial properties available in several sizes. Following are the further details:
GM SQ Towers – Project Details
After getting huge success in GM ICON 3, Diamond Developers is all set to achieve their goals by presenting this mega project. GM SQ Towers is a purely commercial project with ground + 12 storeys. It is a project where you will find the best shops, offices, and commercial spaces. With a high-class, beautiful exterior, this project is full of all the modern-day facilities and attractions.
Booking of the properties at GM SQ Towers starts from a 20% down payment, while the remaining will be payable in equal installments.
GM SQ Towers – Ideal Location in BTK
This appealing venture is developing correctly in the heart of Bahria Town Karachi. It is located on the plot number 105, 106, 107, and 108 of Liberty Commercials. GM SQ Towers are located on the main Jinnah Avenue opposite International Standard Theme Park Karachi. Many other attractions such as Grand Jamia Mosque, Bahria Head Office, and Midway Commercials lies nearby.
Why Should You Consider Buying in GM SQ Towers?
Undoubtedly, many projects are developing in Bahria Town Karachi that you can consider for investment. But the most significant reason to choose GM SQ Towers is the availability of purely commercial properties. Once the development work completes, GM SQ Towers will become a center of attraction to meet different shopping and business needs.
This project is offering spacious showrooms where different well-known brands are all set to open their stores. On the other hand, the offices and shops are good enough to run your business. Most importantly, you can easily buy any of these properties with just a 20% down payment.
Furthermore, the 100% merging of the disputed/non-developed BTK files is also available. So, what are you waiting for? Do invest in the GM SQ Tower Bahria Town Karachi by Contacting Universal Property Network  .For More Information click here or visit our youtube channel