Why Should You Reside in Bahria Town Karachi?
by UPN
February 12, 2021
0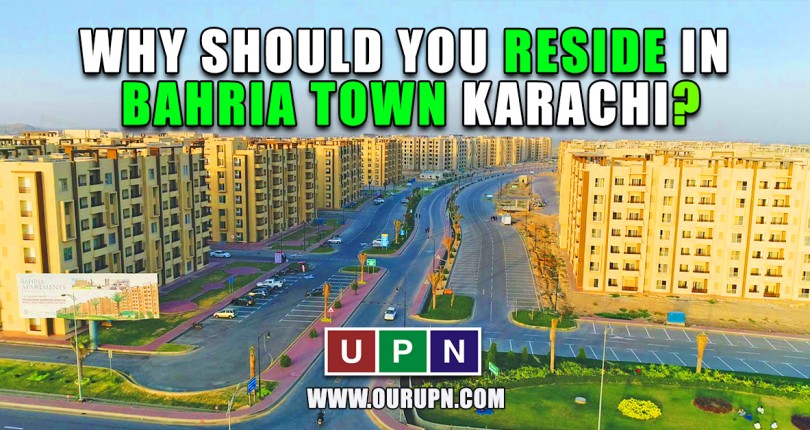 Since its inception in 2014, Bahria Town has become the number one housing venture in K-Town. It is a society where the demand for property for residence and investment is increasing day by day. We expect this demand will continue increasing in the future. Undoubtedly, Bahria Town Karachi is a complete city within the city, and its development work is progressing in full swing. Many houses, apartments, and villas are under construction, while hundreds are complete and inhabited. People from Karachi, from the other cities and Overseas Pakistanis, are shifting there and desires to spend a joyful lifestyle there.
Here the question is, what are the factors that make Bahria Town Karachi the right place to reside? Let's discuss the details:
Speedy Development and Possession
Bahria Town Karachi is the most significant housing society in Pakistan, with several sub-projects and many precincts. All these precincts are thoughtfully designed and developed to make them attractive to everyone. Launch in 2014, Bahria Town Karachi now becomes a properly set, well-populated housing society.
The ratio of inhabitation is increasing with time. The development work of more than 85% of the precincts is complete. Possession of the properties is announced. Even a large number of constructed properties are occupied.
Location of Bahria Town Karachi
The location of this Bahria Town in Karachi plays a major role in making it a successful project. Bahria Town Karachi is located ideally on M9 Super Highway, a little far from the city life's hustle and bustle. Many well-known societies such as DHA Karachi, ASF City, and Karachi Hills are located in the surroundings. This society's peaceful location is making it the right choice to reside there with your loved ones.
Properties at Affordable Rates
This Bahria Town in Karachi is home to opportunities. Here you will find countless options that will definitely make you confused while choosing one among them. A wide range of properties is available for sale where the prices of each differ from the other. For example, a 125 sq yards plot in Precinct 12 will cost you between 40 lacs to 55 lacs. But the same size plot in Precinct 14 or 15 will be available at the price of 20 lacs to 25 lacs and so on.
The luxuries and affordability are another primary reason to choose this project for residence in Karachi.
Availability of Installment Options
Everyone desires to live in Bahria Town Karachi to get benefit from the top-notch facilities and countless attractions. That's why many of the options are still available in installments. These options are not available in plots, but you can buy villas and apartments. Paragon Heights and many of the other projects with the best apartments are available in easy installments.
Similarly, we are offering villas of several sizes with customized payment plans. If you also desire to live in Bahria Town, don't hesitate to contact us for further details!
Security, Entertainment Facilities, and Other Attractions
Bahria Town is the safest and the most secured society in Karachi. It is developed on the latest development trends and has no compromise made on the security of its residents. CCTV Cameras are installments and have security guards. There are security gates and patrolling police as well.
Additionally, it has countless entertainment facilities like cinemas, Bahria Carnival, Theme Park, Danzo, and much more. You will also find the replicas of the Eiffel Tower and Taj Mahal in Bahria Town Karachi.
Overall, if you want to live in Karachi, Bahria Town can prove the perfect choice for residence!
Contact Universal Property Network  .For More Information click here or visit our youtube channel