Documents Needed In All Property Deals in Pakistan
by UPN
October 21, 2019
0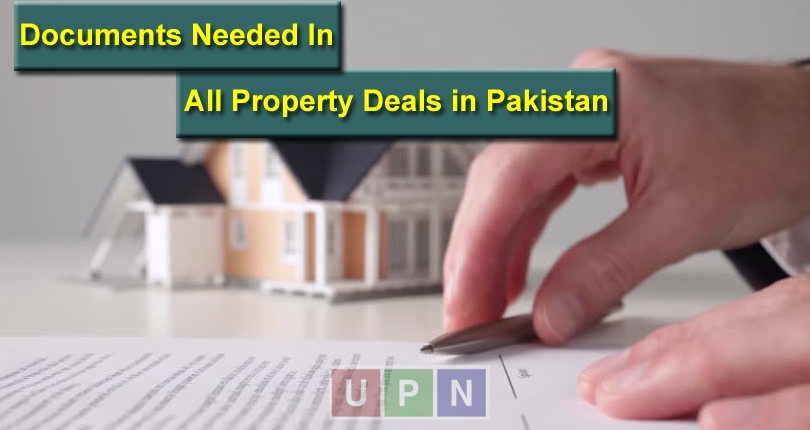 No doubt, making an investment in the real estate sector of Pakistan has become easier than ever. You can search hundreds of properties online, can compare prices, and can easily get the investment analysis through different property dealers. But checking the verification of property documents is also as important as finding the right property for you. So in order to help you in this regard, UPN is making a list of documents and their details that you need to look out before finalizing any property deal in Pakistan.
Important Property Documents To Check For Investors in Pakistan
 Sale Deed
Mother Deed
Approved Plan of the Property
Bank Approval Certificate
Encumbrance Certificate
Power of Attorney
Property Tax Receipts
Completion Certificate
Let's discuss some details of these documents!
Sale Deed
Sales deed is basically an agreement where the details of both the seller of the property and the buyer are mentioned. It is one of the most important property documents that are necessary to prove the ownership of a property.
Mother Deed
Whenever you are dealing in the real estate of Pakistan, it is very important to trace the ownership of a property. Mother deed is a legal document that shows the complete history of property transactions and list of the owners' names mentioned on it. It is another important document that helps to identify the original owner of the property at the time of buying.
Approved Plan of the Property
 It is an important property document that assures that the design of the property in which you are investing has no legal issues. Actually, this document is very much needed in buying property in Islamabad.
Bank Approval Certificate
Many banks in Pakistan are offering home financing schemes and when you go for this scheme, your bank will provide you an approval certificate. Basically, it is a document that a bank issues after scrutinizing and checking the legality issues 
Encumbrance Certificate
This is a document that clears that the property you are purchasing does not have any types of mortgages and pending loans.
Power of Attorney
It is a document that gives an individual the authority to sell, rent or purchase a property on behalf of someone else. So, the Power of Attorney is one of the most important property documents in case of property transactions in Pakistan. Moreover, this document is must to be registered and verified by the relevant legal authorities.
Property Tax Receipt
Before buying any property, it is important to take a thorough look at all the property tax receipts properly. It will assure that there are no pending taxes on the property.
Some important property taxes in Pakistan are:
Capital Gains Tax (CGT)
 Capital Value Tax (CVT)
 Stamp Duty and Withholding Tax or Advance Tax
Completion Certificate of Property
It is another important property paper that is awarded to the project after it's completion. This completion certificate states that the property is constructed according to the set standards. It certifies the legitimacy of the property moreover, an important document to acquire the possession of any new property.
To get the completion certificate of any property, it is important to contact to the relevant development authorities such as for Sindh and Karachi you can request it from SCBA, for Lahore, you can contact LDA, and for Islamabad, you can contact CDA.
So, these all were the important property documents in Pakistan that every investor has to check and verify before finalizing any property deal.
Check out our site for more detail. Latest News
For any queries, feel free to contact Universal Property Network.