Low-Cost Plots of 125 Sq Yards in Bahria Town Karachi
by UPN
February 11, 2021
0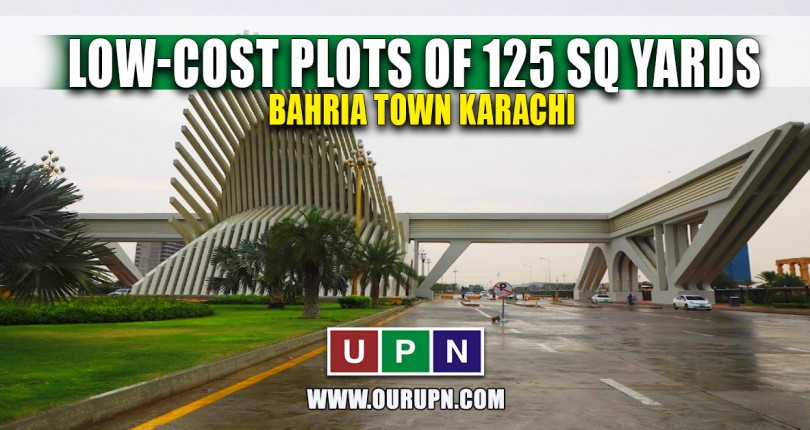 Bahria Town Karachi is an excellent addition to the landscape of Karachi. It's a top-rated housing society where both the local and overseas investors prefer buying property. Starting from the residential plots to apartments, villas, and commercial properties, Bahria Town Karachi perfectly meets all modern investors' requirements. However, among all of them, 125 sq yards residential plots are high in demand.
Bahria Town Karachi offers a wide range of 125 sq yards plots in its several precincts. These precincts have the expensive 125 sq yards plots to the plots available at the lowest prices. Let's find out the best low-cost plots in Bahria Town Karachi:
Cheapest Prices but Developed Plots of 125 Sq Yards
Bahria Town Karachi has affordable residential plots of 125 sq yards in the following precincts:
Precinct 23, Precinct 24, Precinct 25, Precinct 26, Precinct 26A, and Precinct 31
All these precincts have on-ground plots of 125 sq yards. These precincts' development work, such as road infrastructure, sewerage, and electrical work, is complete. Most importantly, the possession of the plots is announced. You can easily buy a 125 sq yards plots, can apply for possession, can approve your map, and start the construction over it.
Why are the Prices of these Plots Low?
The prices for the 125 sq yards plots in Precinct 23, 24, 25, 26, 26A, and Precinct 31 is low because of the distance. Yes, the location is the reason behind the lowest prices of developed plots.
All these precincts are located at a distance of 14 to 16 Kilometers from the main gate of Bahria Town. Undoubtedly, all the precincts of Bahria Town Karachi are thoughtfully designed that no one remains in the dark. But the distance from the main entrance of the society is lowering the prices of plots in these precincts.
However, once the development of houses completes and the number of families residing there will increase, such plots' prices will also go high.
Expensive Plots of 125 Sq yards In Bahria Town Karachi
While sharing the details for the lowest prices plots, we think it's important to discuss the expensive plots. The best but the highest prices plot of 125 sq yards in Bahria Town Karachi are available in Ali Block. An ideally located plot in Precinct 12 will cost you between 55 to 65 lacs.
The reason behind such high rates is also the location. This precinct is beautifully developed and has an impressive inhabitation ratio. Also, Ali Block's distance is less from the main attractions such as Grand Jamia Mosque, Bahria Head Office, and Theme Park.
Overall Price Range of 125 Sq Yards Plots
The on-ground plots of 125 sq yards in Bahria Town Karachi will cost you between 17 lacs to 65 lacs. The prices of plots completely depend on location.
Which One to Choose?
Investment in real estate is not like grocery or the shopping of garments. It can be your life-changing decision where you have to invest a lot. So, making a wise decision after the proper analysis is very much important. Choosing one plot among all the available options is difficult. Do proper research, compare things like prices, location, possession charges, and construction cost.
For further assistance and investment analysis, Contact Universal Property Network  .For More Information click here or visit our youtube channel