Eid Fun at Danzoo Bahria Town Karachi – Exotic Animal Show and Music Show
by UPN
June 13, 2018
0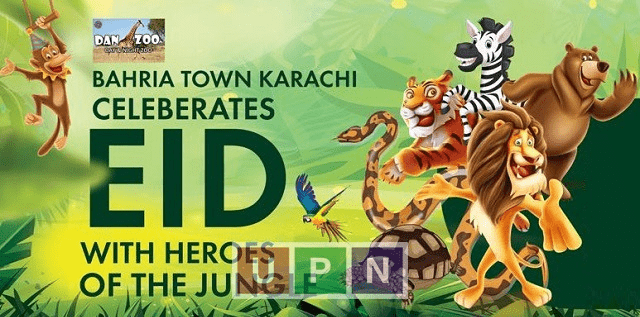 Bahria Town always brings something special on festive occasions to fill your life with colors of happiness and joy. Eid-ul-Fitr, which is the biggest day for all of us, is up here and we all are really excited to celebrate it with full fervor. Bahria Town Karachi has planned to celebrate this Eid-ul-fitr with some wildest celebrations for each age group especially kids. You might have guessed it right, and yes Pakistan's first Day and Night Zoo will be the place where all this Eid Fun is going to take place. Bahria Town Karachi is providing you a chance to come and enjoy your Eid at Bahira Danzoo Karachi among the wild and with the music beats.
Danzoo Animal Show & Music Show on Eid
Bahria Town Karachi has arranged a perfect family hangout program for its residents and locals of Karachi. It has organized a 3-day activity in Bahria Danzoo which will be a perfect entertainment for kids and their elders. Come and enjoy the moments of Eid with your family.
This is going to be most exciting news for the kids that Bahria Town Karachi is featuring in an Exotic Animal Show at Danzoo. On all three days of Eid, it will start at 5 PM and will end on 8 PM. So on Eid when the sun goes down, you should head to Danzoo, Bahria Town for a fun-filled evening.
It is not all about wild creatures only as music shows are lined up right after animal shows.  In these 3 days of Eid, a special music show will entertain you at Danzoo Bahria Town Karachi from 8 PM to 11 PM.
The sweetness of Eid-ul-Fitr is incomplete without variety of delicious foods and you will get it there at Food Carnival.
For Animal Show and Music Show, visitors won't be charged separately and it will be included in the entry ticket price. Awesome water rides at the Boating Club and the Tour De Danzoo will be available as usual.
Celebrate this Eid with Heroes of the Jungle and plan a perfect family picnic. For more information and latest updates, please keep visiting Universal Property Network (UPN).