Bahria Day and Night Safari (DanZoo) – Ticket, Timing and Opening Update
by UPN
April 29, 2018
2 Comments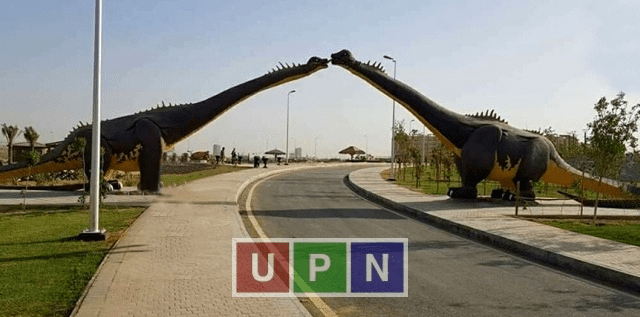 Bahria Town Karachi has embarked on the journey to deliver its projects promised in this mega residential community. Other than living opportunities, a couple of recreational projects are also coming your way. Bahria Adventure Land aka Theme Park Bahria Town Karachi is all set for a grand opening on this Eid expectedly. The second such venture is Bahria Day & Night Safari and people are desperately waiting for its opening. Good news for all that Bahria Day & Night Safari (Bahria DanZoo) is opening soon. The details about its tickets and timings for visit have been disclosed.
Bahria Day and Night Safari (DanZoo) Opening Soon
The first-of-its-kind zoological garden in Bahria Town Karachi has almost been completed and ready for inauguration. The infrastructural development is done and now all species including animals and birds have been caged. Lions, Tigers, deer, Monkeys, Ostrich, and some other kind of birds have been arrived from different countries. The finishing work is reached to completion and within a few weeks Bahria Day and Night Zoo (DanZoo) wil be open for public. However, Bahria Town Karachi has not given a tentative date for inauguration of Day & Night Safari.

Bahria DanZoo – Day & Night Zoo
Bahria DanZoo (Day and Night Zoo) will be wonderful entertainment opportunity to see their favorite animals and birds so close. The boards containing information about its tickets and timings are hinting that it is all set to open anytime soon. Once opened, it will be the most visited destination of Bahria Town Karachi on weekends.
There are two categories for Bahria Danzoo ticket pricing whereas entry is free for children less than 4 years of age.
Children 5 to 12 Years = Rs. 250/-
Adults = Rs. 450/-
Some water rides are also been featured in this safari park for a complete fun package for the kids.
Bahria Day and Night Zoo and will remain open from 11:00 AM for 11:00 PM once it will open for public.
For more updates and information, please keep visiting Universal Property Network (UPN).