Escorts Bank's Housing Loan Details for Bahria Town Members
by UPN
February 20, 2018
20 Comments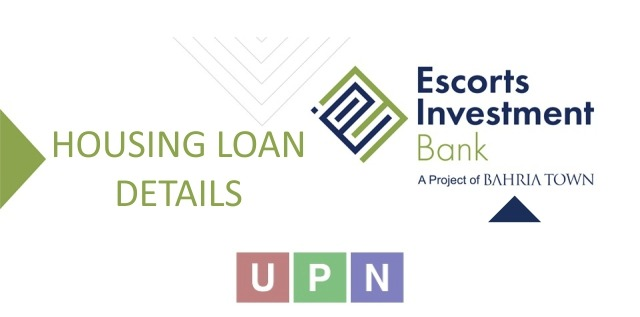 Bahira Town recently took over Escorts Investment Bank and now on its way to facilitate its members with housing loan service. The first branch of Escorts Bank opened in Bahria Orchard Lahore in last week on 15th February and on yesterday the first branch in Karachi was inaugurated inside Bahria Town Karachi. Admiral Ahmad Hayat was present on the occasion as chief guest who formally launched Karachi branch of this new venture of Bahira Town. Ever since this development highlighted through media, Bahria Town members are desperately waiting for the details of housing loan and its terms and conditions. We are going to update you with some initial details.
Escorts Bank Housing Loan Details

First we all should keep in mind, that Escorts Investment Bank will give housing finance just for the construction of house and only to Bahria Town members across the country. It won't be given to purchase a plot or home or flat/apartments.
As per initial information, Bahria Town customers who own residential plots in any chapter of Bahria Town will be able to get housing loan equal to the eighty percent (80%) market value of their plots against construction.
The return/recovery period is optional from 5 to 10 years (minimum to maximum) depending upon choice of customer in which he/she can pay back the loan. The customer can opt for a payment plan of his/her own choice.
However, the ratio of markup/interest on this housing loan has not been disclosed yet and we will keep you posted as soon as we get any update regarding it.
Since this housing loan service is aimed at promoting fast inhabitation in Bahria Town chapters through construction of houses, the markup will be reasonable to make this whole loan program affordable for people.
In the initial information, there is no mention of some specific categories of residential plots against which a member can get housing loan. In the upcoming days, it will be cleared in the terms and conditions.
Escorts Bank's Next Branch to Open in Bahria Rawalpindi
The next branch will be opened in Baharia Rawalpindi by the end of this month to facilitate Bahria Town residents there. However, no confirm date of the third branch opening has been given so far.
This loan service will be quite supportive for Bahria Town members to build your dream home in Bahria Town. This public welfare initiative will pace up construction of homes especially in mega project of Bahria Town Karachi.
For more information and details, please keep visiting Universal Property Network (UPN).