Documents Checklist for Escorts Bank Housing Loan
by UPN
March 15, 2018
2 Comments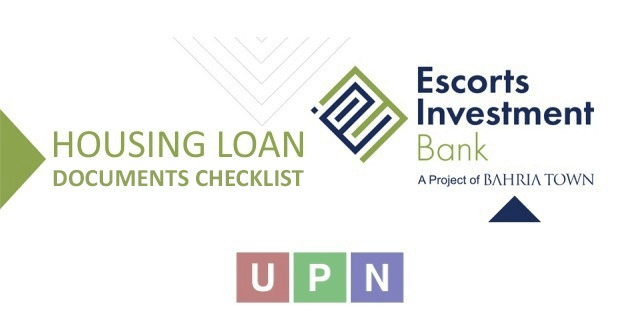 Bahria Town recently made a debut in financial sector earlier this year by taking over Escorts Investment Bank. It was a new beginning entirely different from real estate developments but somehow linked to the benefit of its existing customers. Escorts Investment Bank's first branch opened in Bahria Orchard Lahore and second is now operational in Bahria Town Karachi. The most encouraging and interesting fact out of this development is announcement of housing loans for Bahria Town customers. A few days ago we have shared some terms and conditions of this loan service now we are presenting a list of documents which are required to apply for this service.
Documents Required for Applying Escorts Bank Housing Loan
These documents include some personal information and identity particulars, related to profession and some legal papers of your property. These are divided in three major categories as follows.
Basic/Personal Documents
Under this category, applicants will have to submit copy of CNIC, photographs and income tax number (document).
Copy of valid CNIC/Passport
Two Passport-sized Photographs
NTN (Income Tax Return Document)
Source of Income Documents
This category is further divided into two sections, one is for salaried persons and other is for self-employed individuals.
Salaried persons who want to apply for loan against their Bahria Town property will have to attach three documents in support falling under this category. It includes A) two latest salary slips/salary certificates, B) bank statement of last six months and C) employer certificate.
o   One Year Bank Account Statement with Bank Account Maintenance Certificate
o   Tax Returns for all ongoing Business including as Partners
o   Company(business) Incorporation Documents/Partnership Deed
Land/Legal/Security Documents
This category includes a number of documents related to your property purchasing, building and maintenance in any residential project of Bahria Town. The following documents are to be attached with your application for housing loan.
Location of plot/building/apartment/office etc in Bahria Town
Original Booking Form of Property and Deposited Challans/Slips/Payment Evidences
Surcharge Report/Clearance Certificate , Allotment Letter, Sale Agreement
Affidavit/Undertaking at the time of Transfer, Transfer Letter
Possession Certificate
Approved Building Plan as per standard rules of the society
Land/Plot/Apartment/Office Valuation Report from EIBL nominated Valuer
Address Verification Report
The low cost housing loans from Escorts Investment Bank is another the public welfare initiative of Bahria Town. It will help their customers to build their dream homes in currently ongoing projects.
For more updates and latest information, please keep visiting Universal Property Network (UPN).