Factors Effect On Pakistan Real Estate Market
by UPN
January 16, 2020
0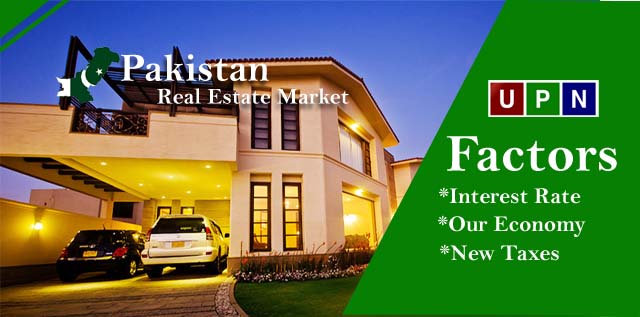 Pakistan's real estate market is one of the major sectors of Pakistan. The real estate sector of our country is developing rapidly with both residential and commercial projects. It is no doubt, always the top-choice of local investors and overseas Pakistanis. Moreover, making the investment in the real estate of Pakistan is the safest way for secure investment and to earn a handsome return on it.
But still, there are some questions that are important to understand/answer before making an investment in real estate of Pakistan. Actually, it's a discussion on the factors that affect our real estate sector. So, let's explore all these details together!
Factors Effecting the Real Estate of Pakistan 
Affordability of Consumers

Interest Rate

Our Economy

New Taxes and Govt. Policies

Investments of  Overseas Pakistanis
Affordability of Consumers
Whenever there is a rise in the income of the middle-class, the affordability of the consumers goes upwards. Thus it makes more people able to invest in real estate projects. This formula is especially true for the people living in the cities as the increase in their affordability results in the rise in demand for both the commercial and residential properties.
Interest Rate
Higher will be the interest rate, low will be the demand for property. The current interest rate in Pakistan is 13.25%. So, it means that people do prefer to save their amounts in banks and consider earning a profit on their savings accounts. If this interest rate goes down, more people will consider buying property to earn the best returns.
Our Economy
No doubt, Pakistan's economic conditions are now improving but still, there is a downward trend. Our political situations are not yet stable, inflation is high, and at the same time, there is uncertainty in the property market. So, naturally, there are only numbers of buyers in the real estate market.
If this downward trend of Pakistan's economy changes to upwards trends, it will definitely have a positive impact on the property sector. Though, our economy plays a vital role in increasing and decreasing property demands and value.
Taxes and Govt. Policies
Last year, the first government of PTI has imposed many new taxes on property buying and selling. Due to this increase in taxes on property transactions such as Stamp duty, Withholding tax, and Capital Gain tax the real estate market of Pakistan is on a decline. Moreover, the increase in property valuation by FBR is also a reason behind it.
Investments by Overseas Pakistanis
Pakistan real estate sector is full of investment opportunities. It is offering attractive returns on a safe investment. That's why our Overseas Pakistanis invest at least $8 billion annually in the real estate sector. This investment by overseas investors plays a vital role in improving the conditions of our property market.
But some recently announced new taxes, as well as the recent destruction of under-construction buildings all over the country, has created doubts in the minds of investors. Indeed, Bahria Town Cases in the Supreme Court also lower down the morale of overseas investors. So this uncertain environment not just slow down the country's economy has also made the ex-pats reluctant to invest in the property sector.