Top Investment/ Selling Real Estate Projects In Pakistan
by UPN
January 18, 2020
0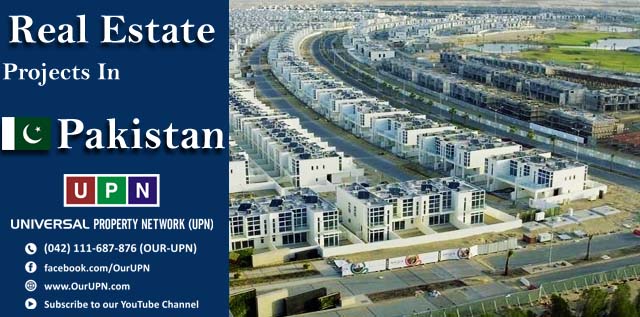 Real Estate Projects In Pakistan
No doubt, the year 2019 was a little confusing for the real estate sector as the government has made many new policies and imposed different property taxes as well. However, we have seen a good boost in different real estate projects even in such unfavorable conditions.
Now at the end of 2019, Pakistan's government is positively working to uplift the real estate sector of the country. This initiative will also stabilize the economy.
Today, in this latest blog, we will discuss the details of some top/best selling real estate projects in Pakistan. These housing projects were not only the best to buy property in 2019 but also plays a major contribution to the economic sector.
So, let's explore the details of these best real estate projects of 2019
Real Estate Sector of Gwadar   
Gawadar is developing rapidly. The area will be soon become a game-changer for the economy of Pakistan. Pakistan's government is that's why providing a lot of rebates and facilitation for the growth and development of Gawadar. Work on Gwadar Master Plan shows all the upcoming development along with routes and infrastructure which will open numerous new opportunities in it. These opportunities will be for the people want to trade, start their business, or looking for employment as well as investment in real estate.
There are different new and developing housing and commercial projects in Gwadar that are full of investment opportunities. You can buy the best residential property, can choose commercials or can also invest in ready to live properties.
So, Gwadar is definitely a great choice to make an investment and to earn the best in return.
Bahria Town Karachi
Bahria Town Private Limited has become the top property brand in Pakistan. The developers have already launched their housing projects in the different major cities of the country. But Bahria Town Karachi holds significant importance among all.
The society is spanning over a large area of land and developed in a green and lavish atmosphere.
Its state of the art architecture and fabulous location along with the top-class available facilities all make Bahria Town Karachi a perfect place for investment.
Here you will have the best residential facilities, commercial markets, sports and entertainment facilities and much more.
The society is fabulously planned with the best security system as well as offering the ideal health and education facilities.
Bahria Town Karachi is designed with the 3rd Largest Mosque, Rafi Cricket Stadium, and a Sports Complex.
It was one of the leading projects in 2019 and still the top option for investors in 2020.
Bahria Town Lahore
The second best housing society of Bahria Town which catches the attention of buyers and investors in 2019 is Bahria Town Lahore. Covering a large area of land, this housing project is offering different properties along with all the world-class facilities and features. Here in Bahria Town Lahore, you will find the best residential properties along with equal investment opportunities in the commercial sector.
Bahria Town Lahore is offering the lavish facilities like the standard education, well-equipped hospital, 24/7 security and much more. Further, here you will have the best sports and entertainment facilities.
Eiffel Tower is the most prominent attraction of Bahria Town Lahore. It is especially famous for the New Year's night celebrations.
Lahore's Bahria Town was a popular choice to buy attractive properties in 2019. However, now investors are more focused on the launch of Bahria Town Peshawar in 2020.
DHA Multan
Another appealing housing project with the best properties for sale is DHA Multan. It is a well-planned housing society by DHA that is spanning over a large area of land. It is covering a large area of land and further divided in many blocks.
Both the reasonable residential and commercial properties are available for sale in DHA Multan. It is one of the best projects located in Multan and offering all the main facilities like basic utilities, carpeted roads, security, lush green parks and commercial markets.
Conclusion
The following are the major leading real estate projects of 2019. These are also looking to grow and attract investors in 2020. However, there are some new projects such as Bahria Town Peshawar will appear as the major real estate development in 2020.
For further information and updates, stay connected to Universal Property Network!