FBR Increased Property Valuation but Rejected by Senate Committee
by UPN
December 8, 2021
0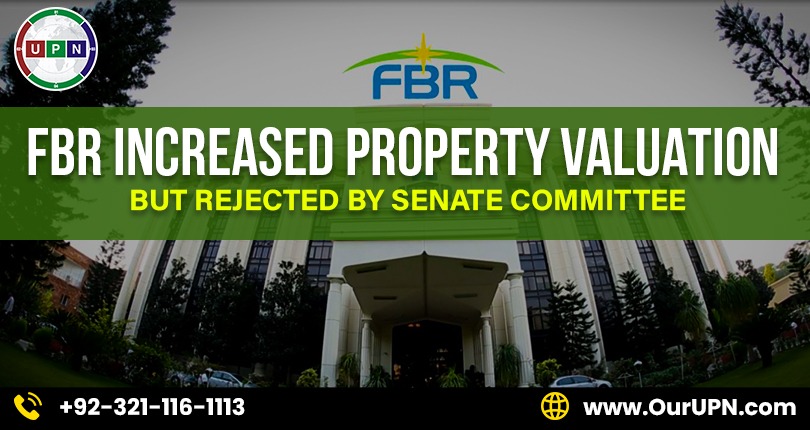 The Federal Board of Revenue (FBR) has recently increased the valuation rates of immovable properties by 10 to 100 percent. This increase in FBR Property Valuation is made to collect more taxes from the real estate sector.  The board has also expanded Capital Value Tax from 20 to 40 cities. Further details are:
FBR Property Valuation Increased – Important Announcement  
The Federal Board of Revenue has increased the rates of valuation of immovable by 10 to 110%. This hike in the FBR property valuation rates will increase the overall prices of the properties and jack up the transfer fees and other property taxes. Also, the board has revised the major cities list from 21 to 40, adding 19 cities to the list, including 13 from Punjab, three from Sindh, two from KP and one from Baluchistan.
The cities where the property rates and taxes increased are:
Abbottabad
Attock
Bahawalnagar
Bahawalpur
Chakwal
Dera Ismail Khan
DG Khan
Faisalabad
Ghotki
Gujranwala
Gujrat
Gwadar
Hafizabad
Hyderabad
Islamabad
Jhang
Jhelum
Karachi
Kasur
Khushab
Lahore
Larkana
Lasbela
Mandibahauddin
Mansehra
Mardan
Mirpurkhaas
Multan
Nankna
Narowal
Peshawar
Quetta
Rahim Yar Khan
Rawalpindi
Sahiwal
Sargodha
Sheikhupura
Sialkot
Sukkur
Toba Tek Singh
FBR Property Valuation and Government of Pakistan
The main objective behind the increase in valuation rates of immovable properties is to collect more taxes and to filter black money. In Pakistan, there is a big difference in the buying and selling rates of a property. But these prices are the same in many of the well-developed countries of the world.
If we deeply study the requirements of FATF, it clearly demands to end the difference in selling and buying prices. In 2016 Dar sb. worked on it, but later several mafias discouraged them, which was stopped. In 2019, PTI Government also tried, and that's time the increase in FBR Property Valuation was within the range of 30 to 85 percent. But this step has down the real estate sector.
Impact of FBR Recent Increase
This decision will impact more on the NOC approved projects than the new development or the projects in initial stages. For example, The per marla rate of plot in Bahria Town Lahore is 7.50 lacs in FBR valuation, but it will be 17.50 lacs per marla after this increase. So, a 10 Marla residential plot will cost 1.75 crores in government documentation. But still, there are several blocks in Bahria Town Lahore where the prices of 10 Marla are low than the new prices in FBR valuation.
Reaction of Real Estate Agents and Investors
The people linked to the construction business, especially real estate agents, have raised concerns over the increase in valuation rates lamenting that this will affect the property sector. Even this recent increase in valuation rates has been declared unprecedented by the realtor community. As a result of the revised valuations, the sale and purchase of properties are expected to massively slow down.
At the same time, this increase in the prices is not appreciated by the investors. After this increase, many investors will fail to invest in expensive properties. As a result, the investment capacity will decrease, resulting in a down in the real estate market.
Who will Get Benefit?
Only the people who had already invested will get benefit from this recent FBR property valuation. Also, it will benefit the government as they will collect more taxes.
FBR's Decision Rejected by Senate Committee
Senate Committee of Finance has rejected FBR's decision and asked to revise these valuation rates. They asked to review this whole matter deeply and announce new rates after proper meetings with stalk holders.
Senate Committee of Finance has given the deadline of 15 days to cancel this circular and present some better rates which are acceptable for everyone.
Please contact Universal Property Network For More Information click here or visit our youtube channel further assistance