Free Rental Services – Special Lockdown Offer by UPN
by UPN
August 8, 2020
0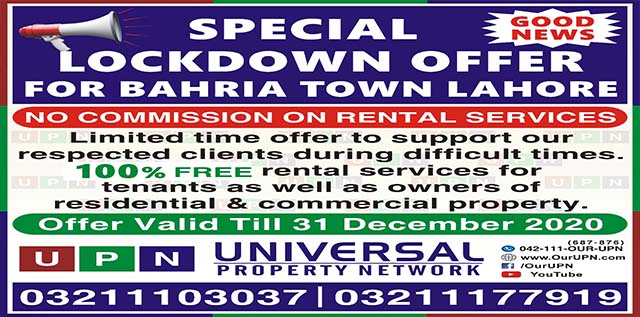 Are you looking for a house on rent in Bahria Town Lahore or searching for an ideally located shop on rent where you can confidently start your business? Then don't be worried because Universal Property Network is a one-stop solution to all your property needs. Yes, we are here with a special lockdown offer for the respected clients of Bahria Town Lahore.
Universal Property Network now offers 100% free rental services to support our clients during the stressful time of lockdown. We are offering our professional services without charging you any commission on rental property deals.  This offer is valid for all the tenants and the owners of residential and commercial properties in Bahria Town Lahore. This special lockdown offer for rental property will be valid till 31st December 2020.
So, don't miss out on this golden opportunity! And get your desired property on rent or rent out your property without paying extra on it!
Bahria Town Lahore – A Dream Destination
Buying property in Bahria Town Lahore is the dream of every investor. Also, every homemaker desires to live happily in the peaceful and joyful environment of Bahria Town Lahore. Undoubtedly, Bahria Town Lahore is a complete city within the city. It is a society where you will be facilitated in every aspect of life. Excellent infrastructure, modern development, latest and unmatched facilities with appealing attractions all makes this society a perfect package or simply a dream destination for everyone.
If you had missed the chance to buy your desired property in this appealing society, you could confidently get it on rent!
Different properties, including houses, villas, apartments, and shops, are available on rent at the different locations of Bahria Town Lahore. By offering the free rental services, we UPN will help you find a property that fits your budget and suits your needs.
For further assistance and details, contact Universal Property Network!
Check out our site for more detail. Latest News