Gadap Town Karachi – Available Properties and Average Prices
by UPN
February 29, 2020
0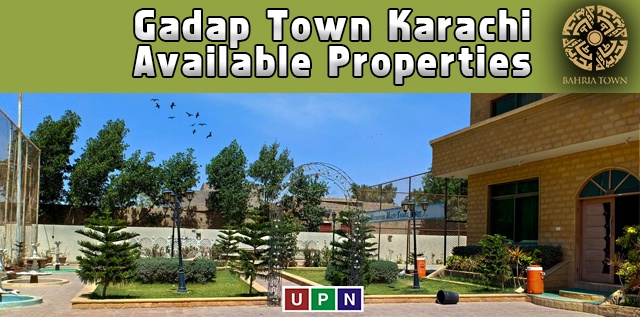 Gadap Town Karachi is spreading over a land of 1200 Sq. KM and it is one of the biggest towns in Karachi. The area is comprised of eight union councils and it is well-connected with Lyari Expressway and Super Highway. It is the attractively populated area where you will have access to all the basic and top-class facilities.
The most prominent feature of Gadap Town Karachi is that it is offering affordable properties. This area is suitable to find both reasonable and luxurious properties. Further, it is well-developed with schools, hospitals, and other facilities.
Most Popular Areas to Buy Property in Gadap Town Karachi
As described earlier, Gadap Town is spreading over a large area of land. So, it is offering numerous property options in different areas. However, the most popular areas to buy property in Gadap Town Karachi are:
Surjani Town
Taiser Town
Gulshan-e- Maymar
Garden City
Saima Arabian Villas
Properties for Sale in Gadap Town Karachi
Finding the right property in such a large and densely populated place like Gadap Town is really a difficult task. So, here in this latest blog, we have shared all the latest details of available properties and their average prices for your ease. Please note that the prices are subject to change.
Gadap Town Karachi – Houses for Sale
If you are looking to buy a house for sale in Gadap Town Karachi, you can consider different options for it. The gated communities of Surjani Town and Gulshan-e-Maymar are the most attractive localities. Here a house of 125 sq. yards will cost you between 50 lacs to 1.2 crores.
Similarly, the house of 250 sq. yards in this area will cost you around 65 lacs to 1.8 crores. The spacious houses of 500 sq. yards are also available for sale. The asking prices of these houses are between 2.3 crores to 4 crores.
Apartments for Sale in Gadap Town Karachi
Not only houses but Gadap Town is also a popular choice to buy the apartments of 1 Bedroom, 2, Bedroom, 3 Bedroom, and 4 Bedrooms at the attractive prices. The best areas to buy apartments for sale in Gadap Town Karachi are:
Gulshan-e-Maymar
Surjani Town
Saima Arabian Villas
Ahsanabad
Sherwani Royal Suites
Safari Palm Village
Taiser Town
The starting price of 2 Bedroom apartments in Gadap Town is 20 Lacs to 70 lacs. However, 3 bedroom apartments and 4 bedroom apartments will cost you around 50 lacs and 1 crore respectively.
Available Plots for Sale in Gadap Town Karachi
Gadap Town now becomes the top-option of buyers and investors in Karachi. It is offering different sizes of plots for sale in it. The available plot sizes are 125 sq. yards to 1000 sq. yards. The prices of the plots are different as per the location. 125 sq. yards plot in Gadap Town will cost you around 20 lacs to 70 lacs. Similarly, a plot of 250 sq. yards in this area will be available at the price of 46 lacs to 90 lacs. Moreover, a 500 sq. yards plot will cost you around 75 lacs to 1.8 crores.
Commercial Properties for Sale in Gadap Town Karachi
Gadap Town Karachi is one of the popular localities to buy commercial properties in Karachi. Here you can easily buy different sizes of commercial plots, offices, and shops for sale. Taiser Town ranks highest in the list of the best areas for commercial properties in Gadap Town Karachi.
Check out our site for more detail. Latest News