Grand Mosque Facing Apartments in Bahria Town Karachi
by UPN
January 9, 2021
0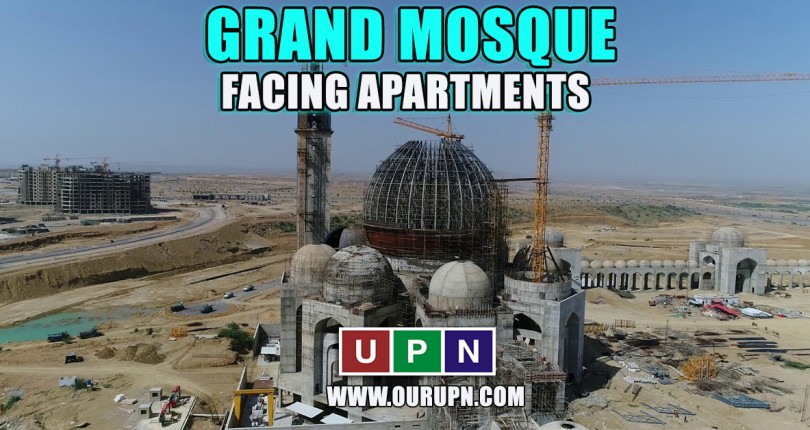 Grand Mosque Bahria Town Karachi, also known as Jamia Masjid Bahria Town is the third-largest mosque of the world under development. Designed in line with Islamic and Mughal Style architecture, it will have the capacity to accommodate 800,000 worshippers. It is undoubtedly the biggest landmark and attraction of Bahria Town Karachi, a good sign of proximity properties. The demand for properties in the proximity of the Grand Mosque is very high. Plots of different sizes are available nearby, but the Grand Mosque facing apartments seems the best option among them. Let's know more about them!
Grand Mosque Facing Bahria Heights Apartments
Bahria Heights is a high-rise buildings project where the 2-bed apartments covering 1100 sq yards are available. This project comprises many towers; however, some of its towers are Precinct 8 facing, some are near Precinct 17 while four of its towers are Grand Mosque facing.
So, the towers of Bahria Heights that are facing the Grand Mosque Bahria Town Karachi are towers are:
Tower I, Tower J, Tower K and Tower L
All these towers are located opposite to Grand Jamia Mosque.
Development Status of Grand Mosque Facing Bahria Heights
The development work of these apartments is under progress. All these four towers are ready in grey structure. However, there are still many things that need to be developed properly. The work on road infrastructure and access is also pending. Hopefully, the development work will resume soon, but we can estimate these towers' completion in the next 1.5 to 2 years.
 Current Prices of Grand Mosque Facing Bahria Heights Apartments
The latest prices of apartments in Tower I, J, K, L is quite low as compared to the apartments in Tower A, B, C to Tower H. These apartments are available in the price range of 41 lacs to 45 lacs. The price range for the apartments is provided for both the inner and outer sides apartments.
Demand and Investment in Grand Mosque Facing Apartments
The sale and purchase of apartments in Tower I, J, K and L are average. Investors are considering these apartments, mostly for investment. Tower I and J's development work is more than others so, and their apartments are best to choose.
But as Bahria Town appears to be more focused on completing Bahria Heights Towers A to H, these apartments will take time in completion. Buying in these Grand Mosque facing apartments for 2 to 3 years can return you with good investment returns.
For further details and investment analysis,
Contact Universal Property Network  For More Information click here or visit our youtube channel further assistance.