Gwadar Golf City Announced Commercial Plots Launching – Find Commercial Plots for Sale in Gwadar
by UPN
July 17, 2018
0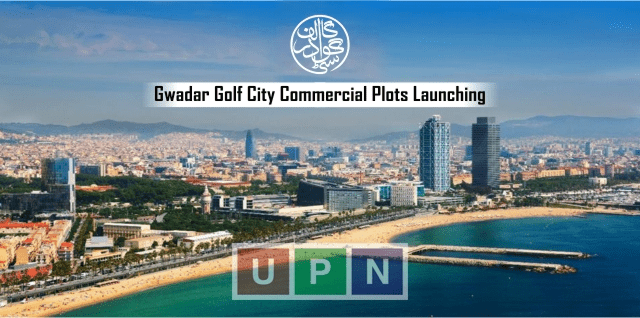 Gwadar Golf City by BSM Developers Group, on receiving an overwhelming response from buyers in its residential sector has announced launching of a limited number of commercial plots facing the Coastal Highway. The project became the biggest talk of the town right from its inauguration by none other than the CEO Bilal Bashir Malik the grandson of real estate tycoon Malik Riaz. Having captured the Gwadar property market with its residential plots it would not be wrong to say that these commercial plots would be worth every rupee you spend. The project on the whole has proved to be a low cost high yield investment.
Gwadar Golf City Commercial Plots
Booking for the commercial plots has not been initiated yet. It is expected that the company would announce their sale in a couple of days. As these plots face the Coastal Highway, investors are already excited about it. Curious buyers are eager for the details and we will keep you updated on it. Considering the fact that this scheme is approved by the GDA, it is a gem for investors. The announcement of commercial plots is an added investment opportunity and should not be missed out at any cost for all those who want to invest in the future port city of Pakistan.
Cutting of Commercial Plots
It has been revealed that about 25 plots in total are to be sold. The cutting are announced as:
5 Marla Commercial Plots
8 Marla Commercial Plots
Owing to their size, these plots are ideal for all types of businesses. Facing the main Coastal Highway gives an edge to investors and business owners alike. If you plan to start a profitable business in Gwadar in future, these plots are an ideal investment, or if you would like to invest in a commercial land for high-profit yield, it would not be wrong to suggest that this investment will yield a high ROI.
5 Marla & 8 Marla Commercial Plots Prices
Since the launch isn't officially complete, it is too early to predict an actual price. Prices of 5 Marla & 8 Marla commercial plots will be announced by the BSM Group the official partner of Gwadar Golf City project. It is speculated that these plots will not be available in installments but will be awarded to the buyers who pay full price upfront. This factor can be a setback for the small investor but will definitely be a plus point for the person who can pay full price. Being ideally located on the future silk route of Pakistan, the plots are suitable for both investors and genuine buyers.