Gwadar Golf City – Plots Prices, Online Payment, Discount Offers, Booking Details, Location Map and Noc
by UPN
July 16, 2018
0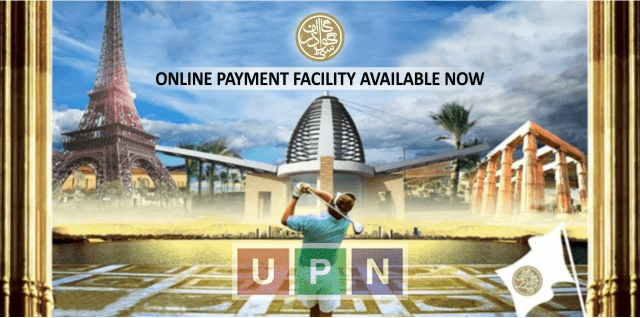 GWADAR GOLF CITY is an exclusive housing project and the first in port city designed on golf-course theme. This state-of-the-art community is packed with amenities paired with modern infrastructure to provide an exceptional luxury living. The hi-tech gated society ensures individual comfort and features the most upbeat lifestyle and remarkable town planning. In the land of the Gwadar it is all set to be a landmark housing project and now completing development stages rapidly.
GWADAR GOLF CITY is an exclusive housing project in Gwadar Port City by BSM Developers. Gwadar Golf City is a project by BSM Developers Pvt. Ltd. whose CEO Mr. Bilal Bashir Malik is grandson country's top real estate tycoon Mr. Malik Riaz. Chairman of Bahria Town (Pvt.) Ltd Malik Riaz is also Patron-in-Chief of BSM Developers. In patronage of country's biggest property magnate, BSM Developers is committed to carrying forward the legacy of providing quality housing with top-notch facilities.

Gwadar Golf City is an exclusive housing project in Gwadar Port City and GDA Approval
Previously Gwadar Golf City was registered as Rabia City Gwadar, but renamed later on and now has NOC to its current recognition. It enjoys an approved legal status from Gwadar Development Authority (GDA) with NOC 53/06/HS/GDA(B) which can be verified as well.
Things you should know before Gwadar Golf City is officially launched
The pre-launch bookings of Gwadar Golf City were underway since January but now it has been closed. But it was formally launched on February 28, 2018 and Bilal Bashir Malik (CEO BSM Developers) and rest of the top management were part of this ceremony. Right from the start of pre-lauch booking, it created a massive appeal among investors including both locals and overseas Pakistanis.
After launching Gwadar Golf City in the country, BSM Developers also held its international launch events in UK and USA successfully. A number of overseas Pakistanis attended these events and overall it got the overwhelming response during these events. The global exposure of this project attracted overseas investors and provided them an opportunity at their doorstep to know about potential of this project.
For its overseas clients in UK, USA and UAE, Gwadar Golf City has dedicated a special tab on its official page for bookings. Those who are living in these areas and interested in booking a plot in Gwadar Golf City can do it easily. All they have to do is to download the booking form, fill it and mail the form to authorized representatives (region wise) to submit in person.
Gwadar Golf City Location Map
Ideally located in Mouza Paleri Garbi on main Coastal Highway adjacent to Jinnah Avenue. It is the only irrigated area Green Area in the land of Gwadar and situated at 3 km distance from proposed International University.
Highlights & Features
Following are some prominent features and amenities of Gwadar Golf City which make sure that it will be truly an ideal place to live in Gwadar.
GDA Approved
Water Distillation Plants
24 Hours Electricity
24/7 Security
Gym, Sports Centre, and Cinema
Sector Markets and Civic Centre
Hospital and Medical Care Units
Latest Development Work 
Gwadar Golf City development is in full swing and construction of main gate has been completed. The design of main entrance is similar to Bahria Orchard and Bahria Nasheman. The work on Egyption Columns is also in the last stages. Heavy machinery is now working on site and administration wants to bring it in shape even earlier than the expected time frame. Installation of electric poles and water pipelines are also in process.
Gwadar Golf City plot prices were recently increased from Ist May, 2018 for non golf facing plots of 5 Marla, 8 Marla, 10 Marla, and 1 Kanal. The exclusive golf facing plots of 1 Kanal and 2 Kanal are still available on same prices and 3-year payment plan.
Payment Plan of Gwadar Golf City
The payment plan for exclusive golf-facing plots is based on quarterly installments so there are two payment plans.


Get Discount Offer In Gwadar Golf City Plots, Limited Offer For 1 Lac Rupees Discount
Recently Gwadar Golf City discount offer of Rs. 100,000 was in progress. The management was offering adjustment on submission of open booking forms with adjustment forms. A number of customers availed this opportunity at their earliest to get a discount of Rs. 1 Lacs straightway in installments.
Give Free Plots via Lucky Draw
In the month of April Gwadar Golf City gave away 5 Marla plots to three lucky winners absolutely free via lucky draw. This promotional campaign increased their public engagement and created goodwill among the clientele. We can expect more such offer after certain intervals in future.
Gwadar Golf City Online Payment
Gwadar Golf City administration is focused on the development of the project as well as providing best services to its customers. Recently, it offered the special discount of Rs. 100,000 on submission of the open booking forms till the deadline. Here plots are trending on top in real estate market of Gwadar and investors are buying these plots on daily basis. For the ease of payments for installments/down payment, Gwadar Golf City has provided online payment facility to its valued clients.
Online Payment Make Easy
Now you can pay your installments, down payment or any other payable amount online to Gwadar Golf City in case of plots purchase. The administration has set up an online payment system which enables you to pay installments, down payment and transfer fee.
A procedure of Online Payment 
For online payment, all you need is to follow a simple procedure which is being explained below.
Log on to the official website of Gwadar Golf City and click the green button in the right corner 'Pay Online'.
A page will open which is actually a form containing multiple fields.
There are four tabs of drop down menu to select about your booking type, payment type, file type and plot size.
Select the options in each tab appropriately which matches your choice/ selection of property.
Fill out all fields carefully and then click 'Pay Now' button at the left bottom.
The payment will be done via Credit Card or Debit Card and you will have to provide 16-digits Card Number for making an online payment to Gwadar Golf City account.
Once all this procedure is done successfully, the customers will confirmation message and online receipt in the email.
On each online transaction, 2.99% will be charged additionally as service charges.
For investment opportunities, feel free to contact our realtors. Keep visiting Universal Property Network (UPN) for more updates and information.