How to Take Wise Decision While Buying in Bahria Town Karachi – Bahria Town Karachi Property Guide
by UPN
June 3, 2018
0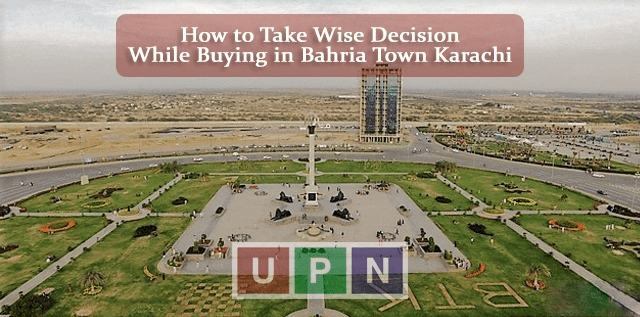 Bahria Town Karachi is completing its development stages despite all ups and downs of its property market. The recent happenings and massive negative propaganda against this mega project have somehow dropped down the market. According to estimation, market has gone down almost 20% to 25% and property rates are now hitting low. Though this is for a limited time period but at the same time it is an opportunity for buyers to purchase properties wisely at low prices. It needs a careful approach in buying to decide which properties one should buy and for what reasons. Following are some tips for this particular situation for the guidance of buyers.
Bahria Town Karachi – Buy Ready-to-move-in Properties
Ready-to-move-in properties which have been completed or near completion will be ideal choice in such situation. These are far batter options in comparison to plot-files and completely risk-free options which exist on ground to move in. Flats, apartments and villas should be your choice as safest investment options in the current scenario.
Avoid Buying Corner/Facing Park Plot (Category) Plots
In order to buy corner plot or facing park, buyers have to pay extra charges for these premium categories. It would be a smart decision if instead of these plots (category plots), buyers invest in semi corner/next to corner or near park plots/properties. These are equally good and available at lesser prices so it in case of price down, these plots will be available in quite economical prices. Once this phase gets over, these plots would earn you profit if you buy for long-term.
Avoid Bulk Buying (Overbuying)
For all investors out there either you are looking for short-term investment or for long-term, avoid buying properties in bulk. It doesn't guarantee significant gain and won't be a wise decision keeping the current context of market in mind.
Those who want to buy properties in Bahria Town Karachi must keep the above mentioned point in mind. For more information and latest updates, please keep visiting Universal Property Network (UPN).