Bahria Town Karachi Property Rates and Discounts – Bahria Town Karachi Important Notice
by UPN
June 4, 2018
0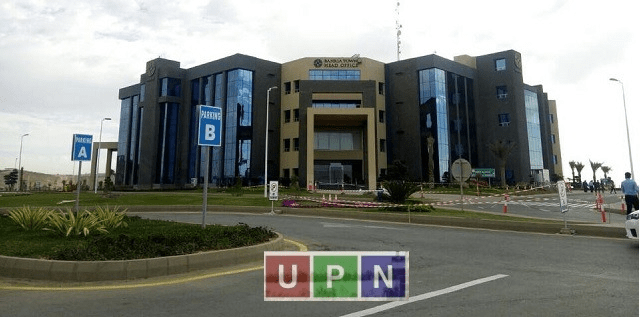 In Bahria Town Karachi, development work and routine procedures are going as usual despite all negativity and propaganda against it. Bahria Town Karachi property rates have come down a bit but some agents are trying to exploit the situation. They are giving fake/negative Bahria Town Karachi rates to buyers and misleading them in account of discount on installment. For their petty gain, these agents are involved in such fraudulent activities to fool the general buyers. Bahria Town Karachi administration has issued a public notice as a warning to these agents and to aware customers for future buying.
Important Notice about Bahria Town Karachi Rates & Discounts
The management of Bahria Town Karachi in its recently issued public notice has addressed customers and dealers to warn them. It clearly and categorically states that some dishonest agents have been found involved in deceiving customers. They are not only offering fake/negative property rates of Bahria Town Karachi and but also offer discounts in installments on their own.
Bahria Town management has informed all concerned to beware of this situation. Bahria Town (Pvt) Ltd won't be responsible if you become a victim of such immoral and illegal activities. To keep its customers at safe end, the management has told then how they can avoid such scams. Similarly, the administration has warned such dealers and agents to refrain from these type of illegal activities.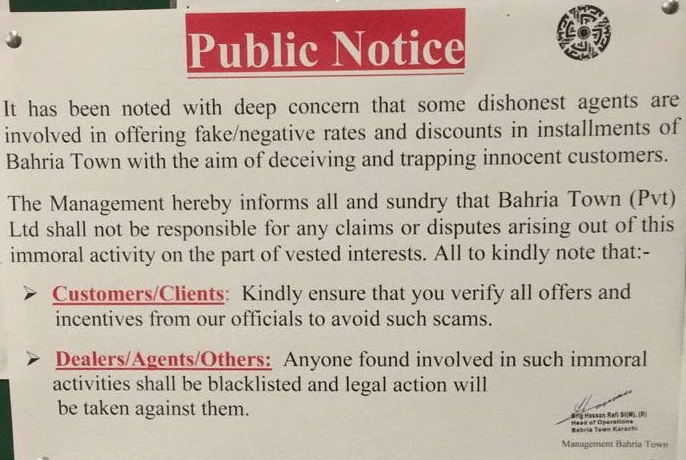 Customers/Clients: All customers are advised that they should verify and cross check any offer/discount/incentive from Bahria Karachi officials (Head Office). It will help them in this particular case and their hard earned money won't be at risk.
Dealers & Agents: Bahria Town will blacklist and take legal action against all those dealers and agents who will be found involved in these activities.
The issue surfaced recently when customers were directed to clear Bahria Paradise Karachi and Bahria Sports Karachi installments in default. Some dealers offered discount on these installments when the offer was not available officially from Bahria Town Karachi.
For more updates and guidance, please keep visiting Universal Property Network (UPN).