Why Invest in Bahria Town Peshawar?
by UPN
November 26, 2019
0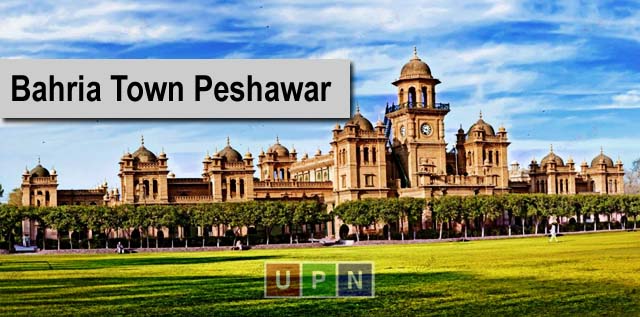 Bahria Town Peshawar
Bahria Town Private Limited is set to launch another mega housing project in Peshawar.  Being the top real estate group in Pakistan, they have brilliantly planned this upcoming project Bahria Town Peshawar. It is a gated community with state of the art infrastructure, modern developments, and fabulous town planning.
Bahria Town Peshawar is simply a well-planned housing venture offering a lavish lifestyle to its future residents. Equipped with all the essential and top-class amenities it is a perfect place to construct your dream home as well as for investment.
Anyone can confidently choose this mega housing society to earn the best returns on his investment.
Here in this latest blog, we will share some highly attractive details of this project that makes  Bahria Town Peshawar invest!
Why Should Investment in Bahria Town Peshawar
A Project of Bahria Town Private Limited
The most prominent feature that makes Bahria Town Peshawar the best option to invest is that it's a new project of Bahria Town Private Limited. A real estate group owned by the top property tycoon Malik Riaz, have already gained much popularity with its nationwide successful projects.
Now they are fabulously working to deliver another mega housing venture in the landscape of Peshawar.
Modern Housing Community in Bahria Town Peshawar
Bahria Town Peshawar is a modern living place offering a lavish lifestyle in it. It is the very first high standard housing society going to develop in KPK. Featuring state of the art infrastructure, it is a project with all the dream facilities and attractions.
Best Housing Project Ever
No doubt, Bahria Town Private Limited has already presented the number of successful projects. But it is believed that Bahria Town Peshawar will be the top one. Yes, the relevant groups especially, the associated construction companies are clamming that Bahria Town Peshawar will be housing project just like Bahria Town Karachi. Moreover, it is also clear that it will be a completely modern city within a city.
High Investment Option
Due to the increasing population and demand for large scale societies in Peshawar, this project will definitely return you with a handsome profit.  Bahria Town Peshawar is a well-planned housing society where you will be able to invest in different types of properties. You can invest in residential, commercial as well as in constructed properties. Currently, the society is in under-development phases, once the development work completes the available plots for sale with the return you with huge profits.
Secure and Safe Place to Live
Just like the other projects of Bahria Town, this mega society is developing with high standard security. Bahria Town always prefers to provide a safe and secure environment for its residents. So, there is no need to get worried about any security issues. Bahria Town has its own security team. Moreover, CCTV Cameras Monitoring facilities will also be a part of Bahria Town Peshawar.
Reasonable Prices and Flexible Payment Plan in Bahria Town Peshawar
Bahria Town Peshawar will be officially launching in the next couple of months. The booking forms of the plots will be also soon available in the market. Currently, all the properties will be available on booking price as well as with flexible payment plans. So, those interested must have to avail of this life-changing investment opportunity offered by Bahria Town. Once the development work completes, and the society turns into a ready to live area, you will definitely get the best returns.
Check out our site for more detail. Latest News
Stay updated with Universal Property Network.