Where to Invest in Gwadar for Huge Profit?
by UPN
January 4, 2020
0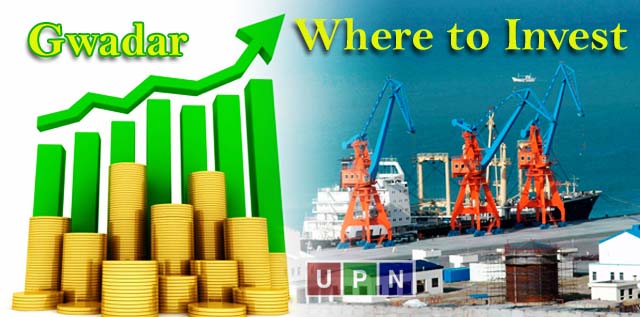 At the moment, the deep seaport of Gwadar and CPEC (China Pakistan Economic Corridor) are the two most important attractions in Gwadar. 
Gwadar port city is majorly connected to many Central Asian Countries and that makes it the largest trade route for international business. Due to its strategic importance and ideal location, this city has a huge potential to improve the economy of Pakistan.
At the same time, many top developments such as Gwadar international airport, Gwadar port, railway lines, and widespread road networks are playing a significant role in opening new possibilities. The development work of these new and old but well-planned projects is moving at the fastest speed.
The huge progress in the development of Gwadar is now attracting huge numbers of investors from all around the world. These days, Gwadar port city is among the top of the list options for making investment and earn maximum from it. You will only need to choose the right option and can make your dreams came true smartly.
Different Transportation Opportunities in Gwadar
The business of transportation is always a good option to earn good and with safe investments. But here in Gwadar, it will do much more for you. Gwadar port city is one of the most important locations that is going to be used by numbers of local and international retailers for the transportation of different goods. So it is offering you a great opportunity to cash it and earn at a high level.
The transportation business is always a good idea for getting safe returns and this is how; it will do well in Gwadar. The seaport is also important as it is being used for a number of vendors on a national and international basis to transport a huge amount of goods. You can cash form this opportunity at a high level.
You can easily get benefits from:
Starting a truck Business
By setting a shipping agency
Start delivery services among Karachi, Gwadar and other nearby countries
Can also set up a trawler business
Here we are sharing the best investment ideas to earn maximum from them. But all these investments and businesses require different expertise and skillset. However, by keeping the nature of the area in mind, you can easily start the best transportation business that suits you the most.
Top Real Estate Investment Opportunities in Gwadar
Gwadar port city is the land of opportunities. Its real estate sector is like as a gold mine to earn best with a smart investment. Numbers of new and modern housing ventures are beautifully developing in Gwadar which will be delivered in the next 3 to 5 years. However, it is really important to choose the right real estate project and be aware of the scammers. Moreover, both local and overseas investors are waiting for the launch of Gwadar city master plan that will also boost up the value of the investment in Gwadar.
Indeed, some of the best real estate projects to make the investment in Gwadar are:
Kings Park Gwadar
Naval Anchorage
Gwadar Central
Ocean Marina Gwadar
Gwadar Golf City
Different Hotels & New Restaurants
Shopping Malls & Super Stores
Opportunities in Fishing Industry of Gwadar
Among all the other popular investment options, the fishing industry of Gwadar holds significant importance. There are numbers of great and attractive fishing industry opportunities are waiting for you such as
Fish Farming
Freezing and Packing
Meal Factory
Some Extra Opportunities in Gwadar
Besides, different investment in Gwadar opportunities you can also pick some extra opportunities like:
Cab services
Power generation systems
Solar plants
Tourism
Warehousing
Recreational Activities & Architecture Businesses
For further details, stay connected to Universal Property Network.