Instructions You Must Follow Before Property Investment In Gwadar
by UPN
May 9, 2018
0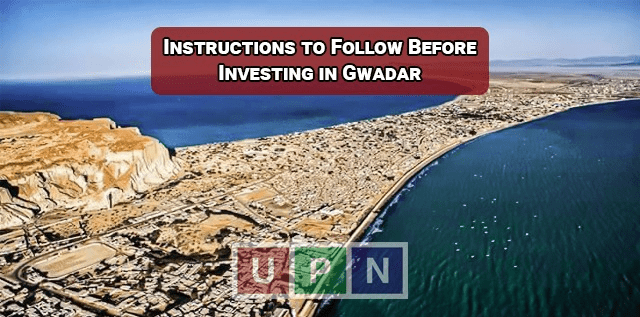 Gwadar is now labeled as 'land of opportunities' for being the fastest developing region of Pakistan with massive infrastructural development. The housing real estate is booming in said area as real estate investors have made some huge investments in Gwadar in the recent times. A number of new housing projects have been launched in the last few months which got overwhelming response from buyers. The property investment in Gwadar is continued at a large scale that you cannot rule out risk factor or possibility of fraudulent activities. Therefore, a cautious approach is needed at the time of buying property in Gwadar to avoid land fraud. We are listing some important instructions which must be followed before investing in this Gwadar housing schemes.
Important Instructions for Property Investment in Gwadar
The buyer must visit the site of housing scheme/society on preferential basis.
Confirm that the housing society you are going to invest in has approved layout plan/map from Gwadar Development Authority (GDA) and NOC issued from authority. It can be verified from www.gda.gov.pk.
The registration of builders' company can be verified online via lookup at website of Security & Exchange Commission of Pakistan. Similarly if it is a firm, it can be verified from Registrar of Firms.
In case of Cooperative Housing Society, registration can be confirmed by Registrar Cooperative.
You can check whether the land has been allotted in name of housing society/scheme by contacting Land Revenue Department Balochistan or Deputy Commissioner Office Gwadar.
Get attested copy of the map with all record numbers. It can be obtained from Settlement Officer, Turbat, Makran Division.
The buyer must get Sub Lease and copy of Ownership certificate (registry) from Land Revenue Department.
Keep all details and contact numbers of project owners/builders/owners' CNIC Copy and pictures (in case of buying property).
Keep an eye on current developments on going at the site. Inform GDA on time if builder has not delivered what was promised.
Never pay any amount in cash while buying a property in Gwadar instead pay through cheque/pay order/demand draft/bank draft.
Among a number of investment options in Gwadar, you must be really careful while investing. So follow the above mentioned instructions for secure investment.