5 Reasons You Should Hire a Realtor for Property Buying and Selling
by UPN
May 13, 2018
0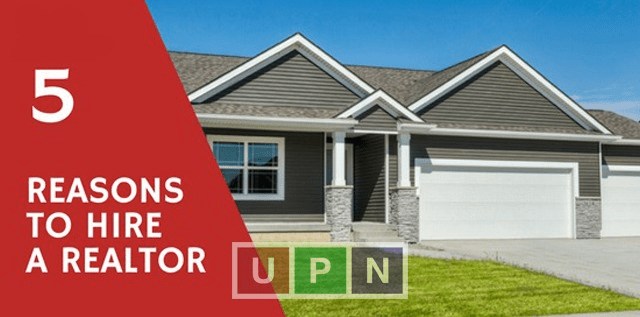 Property buying and selling is not just a matter of choice according to your budget limitation and preferred locality. Finding out the right property for living or investment and the hunt buyers/tenant in case of selling or renting your property is not an easy task. It demands your valuable time and efforts to meet your requirements in either scenario. That's why you need the services of a realtor to lead you in this journey as it is highly recommended to get the job done. Some main reasons to hire a realtor are described here in the following.
Getting Right Property/Buyer/Tenant
The basic advantage of hiring a realtor is that he will find out a property which suits your needs as per your pocket. Similarly, he will be able connect you with potential buyers or tenants for your property in no time. Usually we don't have much time in our busy routine but real estate agent can easily do this job saving your time.
Paper Work/Documentation
Property matters involve paper work and legal documentation which one has to follow either as buyer or seller. Realtors know all about these documents as they have enough knowledge of the formal proceedings of such matters. You won't have to worry about all these papers if a realtor is doing it on your behalf.
Negotiations and Best Pricing
As realtors are well trained with best of market knowledge and negotiation skills, they can deal it better. You would get a fair price of your property as per latest property rates and same is the case when you are on buying side. Real estate experts are expert in negotiations so you will get the best deal for you whether buying or selling.
Guaranteed Secure Investment
In one of your biggest financial transactions of life, realtors lead you hand in hand guaranteeing secure investment. Real estate professionals know all ins and outs and pros and cons of this field. You will be at peace of mind as responsibility lies on him or the estate agency.
Effective Guidance & Consultation
The effective guidance, expert advice and thorough consultation will is the biggest reason to hire a realtor. It makes it a lot easier when a realtor with all mentioned services is accompanying you in property buying/selling process. They utilize their years of experience and lock the most suitable option for you.
You should not take one of the most important financial decisions of your life without hiring a realtor. It really benefits you for long as property matters are to be dealt with proper care and attention.
For more updates and information, please keep visiting Universal Property Network.