Jinnah Heights – A New Project in Bahria Town Karachi
by UPN
February 8, 2021
0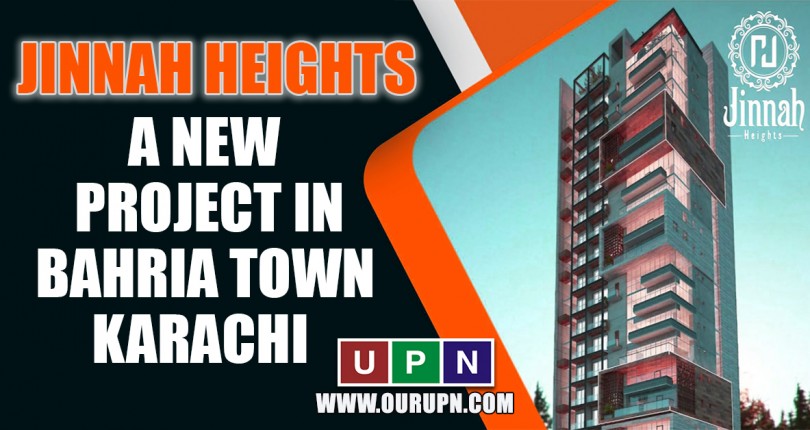 Jinnah Heights is a new residential project recently launched in Bahria Town Karachi. It's a high-rise building project with beautiful apartments for sale. Located ideally on main Jinnah Avenue, this project features all the state-of-the-art facilities and features that anyone can dream of.
It is a project by Muaaz Associates, which is a well-known name on the landscape of Karachi. Jinnah Heights apartments for sale comes with an easy installments plan. Booking starts, and the file merging option is available. Let's know more:
Jinnah Heights – Project Overview
It is a high-rise residential project with ground + 18 floors. Jinnah Heights is a purely residential project where apartments of 2 beds and 3 beds are available. This project offers all the modern-day amenities such as CCTV cameras monitoring, spacious parking, pray area, and much more.
Location of Jinnah Heights
Jinnah Heights Karachi is ideally located in Bahria Town Karachi. This project is developing on main Jinnah Avenue in the proximity of Precinct 19 Apartments. Jinnah Heights is easily accessible on the drive of 2 minutes from Bahria Town Karachi's main gate.
Apartments, Prices and Payment Plan
The residential apartments of 2 bedrooms and 3 bedrooms are available in Jinnah Heights. These apartments are categories as Type A, Type B, Type C, and Type D. The sizes for the apartments are different as well as the prices totally depend on size and location.
Most importantly, all the apartments for sale in Jinnah Heights Karachi are West Open.
All the apartments come with a payment plan of 3 years. Booking of the apartments is starting from a 20% down payment while there are 36 monthly installments. Some of the amounts will be payable at the time of digging while 10% on possession.
Merging Facility for Bahria Paradise and Sports City Files
Jinnah Heights apartments are not only available in full cash, but you can also merge your disputed files. Yes, the file merging facility for all the non-developed/disputed Bahria Sports City files and Bahria Paradise files is available.
Booking in Jinnah Heights can be made with cash payment. The file merging amount will be adjusted in its installments.
Investment in Jinnah Heights Bahria Town Karachi
This new and appealing project offers spacious and thoughtfully designed residential apartments. The apartments in Jinnah Heights are full of all the luxuries of the modern lifestyle. The most significant feature of this project is its prime location. Also, the affordable prices and the ease of installments are making it the perfect choice.
For further details and investment in Jinnah Heights Bahria Town Karachi, Contact Universal Property Network  .For More Information click here or visit our youtube channel