KFC & Askari Bank Opens in Theme Park – Bahria Town Karachi
by UPN
February 4, 2019
0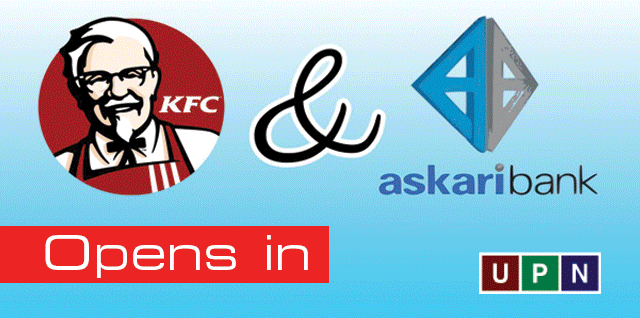 Bahria Town has made a unique tradition in the country by bringing always something very special and attractive for its residents as well as for General Public. First, the administration of Bahria Town has come up with the biggest attraction and the most anticipated Bahria Adventure Land also known as Theme Park. It amazingly features an extensive range of thrilling and exciting rides, amazing roller-coasters, different water rides, great ferries wheel, and a Dinosaur Park as well. Including more different food chains is also a part of it. And recently a new addition of KFC brings a new happiness for the residents of Bahria Town Karachi
KFC Opens in Bahria Town Karachi
Yes, we came to you with a very latest update that Kentucky Fried Chicken (KFC) is also opened in opposite to McDonald's. It's big news for the foodie who loves to enjoy the mouth-watering taste of Crispy Fried Chicken and delicious burgers available in KFC.
Another improvement and addition are also made in Bahria Town Karachi as the branch of Askari Bank Private Limited are soon going to be open in this master housing community. Its great news for the customers of Askari Bank that from now, they will no need to go outside and can easily make all kind of transactions in Bahria Town Karachi.
A New Addition of Askari Bank Private Limited
Askari Bank has already opened their office in Midway Commercial A Side and within few days the complete bank will be operational for General Public. The opening of Askari Bank in Bahria Town Karachi where the branches of 8 to 10 banks are already operational is a good sign that now the uncertain conditions are slowly but gradually going to settle down.
The opening of KFC & Askari Bank is bringing new hopes for the residents of Bahria Town Karachi as well as for the investors that all the uncertainty and panic situation that is all here from the last few months is soon going to settle down as soon as the issues of the legalization of land resolves. We also hope for the best.
For more property updates and new happenings in Bahria Town Karachi, keep in touch with Universal Property Network.