Precinct 31- A Place for Reasonable Plots & Luxury Villas for You Luxury Lifestyle – Latest Details by UPN
by UPN
February 2, 2019
0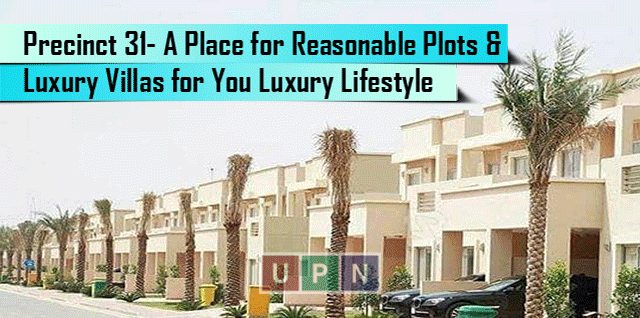 Precinct 31 is amazingly designed Precinct of Bahria Town Karachi. It holds a significant value and importance in this largest housing project because of its prime location. This precinct is wonderfully surrounded by many attractions that definitely boost up the value of plots and villas in it.
Particularly, Precinct 31 is comprised of 125 sq. yards plots and the villas of 200 sq. yards in it. The prices of the plots and villas are quite reasonable as the area is beautifully surrounded by many attractions and amazing features. These value-adding points make this precinct best for residence and investment.  Precinct 31 is surrounded by one of the major attraction of Bahira Town Karachi and that is Rafi Cricket Stadium. Here we have further details of this precinct.
Location Overview and Attractions
Precinct 31 is located at the outstanding location of Bahria Town Karachi. It is positioned at the difference of 15 km to 16 km from the main entrance. There is no need to be worried that it's so far as the area is beautifully designed with having so many amazing attractions and unique features in it.
Rafi Cricket Stadium is one of the most important attractions of Bahria Town Karachi that is located close to Precinct 31. In the further attraction, there is the dancing fountain and a Golf City located at the walking distance. There is a proper commercial market and parks are also planned to be a part of this precinct.
Development Status and Possession
The development of Precinct 31 is almost 90 % done. All the 125 sq. yards plots are on the ground. The construction of 200 sq. yards villas are going on the fastest speed. The possession of the villas and the plots that are completed developed is already announced. As the development of the remaining villas will be done, Bahria administrations will definitely handover the possession of them. The development of parks and a well-designed commercial market is also 80 % completed.
Updated Prices of Plots and Villas in Precinct 31
The plots of 125 sq. yards and the 200 sq. yards villas are the part of this Precinct 31. The updated prices of the grey structure villas of 200 sq. yards are starting from 85 lac to 90 lac. The price bracket of the completed ready villas is starting from 92 lac to maximum 1 crore 5 lac. 125 sq. yards plot is available at the price of 14 lac to 15 lac. The latest updates have confirmed that there is an own price of 3 lac to 6 lac on the 125 sq. yards plots. The own price of the plots depends on the market situations.
If you are interested in buying a 125 sq. yards plot or the beautiful villa of 200 sq. yards in Precinct 31- Bahria Town Karachi, just contact Universal Property Network.