Why Invest in Sector 4 & Sector 5 of LDA City Lahore?
by UPN
October 23, 2019
0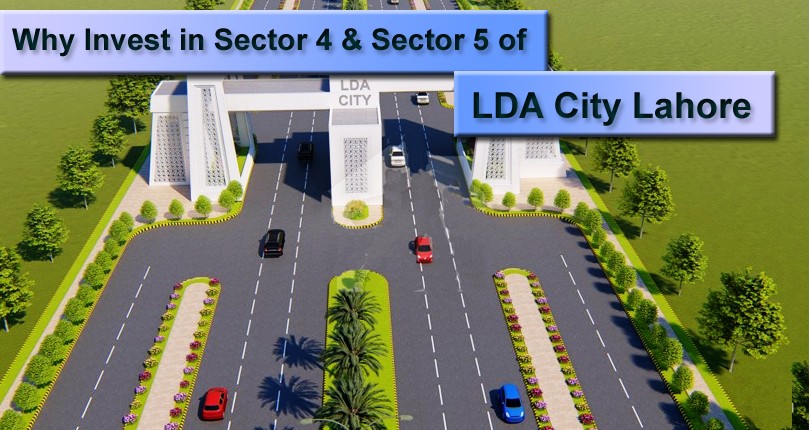 LDA City Lahore is one of the attractive projects that attract investors. It is a project by LDA, so everyone is expecting that it will deliver the best to its buyers and investors. 
Located exactly on Ferozepur Road, LDA City is not far from the Ring Road Lahore on Gaju Matah. It's a brilliantly planned project offering the number of investment options with additional perks of modern facilities and features. 
Current Situation of the Market 
According to the latest updates through our sources, the market of LDA City plots is currently slow. Especially the prices of 5 Marla and 10 Marla plots are decreased. Actually, there were expectations of an increase in the prices since the development had begun, but to the lack of funds, the development of the project has stopped. 
We hope that the development work will begin again as soon as LDA Passes its new budget and new funds for the development are released. 
As soon as the development begins, the prices of all the plots will be stable. 
Currently, the prices of plots in LDA City stand as follows:
| | |
| --- | --- |
| Plot size | Average Prices |
| 5 Marla | 1,300,000/- |
| 10 Marla | 2,100,000/- |
| 1 Kanal | 3,300,000/- |
Expectations of Balloting 
However, investors are eagerly waiting for the balloting. Balloting of plots is very much important to clear the situation for LDA City. There are some rumors that the balloting of plots in LDA City will take place in December. However, the statement is not yet confirmed by the LDA Administration. Whenever there is something new and latest about the balloting, we will definitely update you about it. 
Investment in LDA City Sector 4 & Sector 5 
Making the investment in LDA City Lahore is worth considering. But it is important to invest and buy Exemption Files only. Actually, these are the files that have been granted exemption by the LDA Administration. In simple words, Exemption files are the plots files against which the land is already been purchased. 
Moreover, it is important to mention that LDA Sector 4 & Sector 5 is the only area for which Exemption files have been issued. Indeed, the balloting of plots in both sectors will soon take place. So, investment in 5 Marla plots or in 10 Marla plots both is the best option. 
However, the prices of these files are usually susceptible to fluid changes. They rise and fall in a matter of days. It is easy to buy and sell the plot files of 5 Marla and 10 Marla plots. However, the transactions of 1 Kanal plot can take longer as these plots are usually bought by genuine buyers and considering a large amount of money involved.
Investment in Sector 4 & Sector 5 of LDA City Lahore is highly recommended. We can say that any investment in these sectors will be a good decision to earn the best in about a year's time. 
Check out our site for more detail. Latest News
So, do you have any questions, or looking to invest in LDA City Lahore, feel free to contact Universal Property Network.