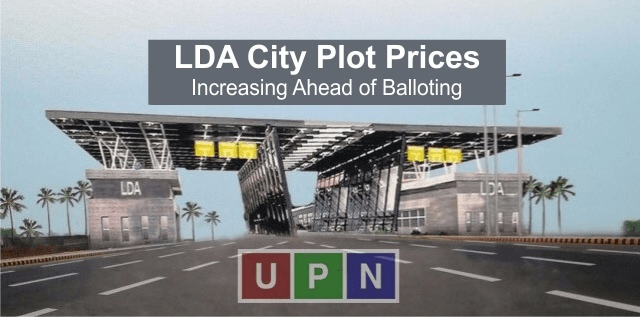 We are just a couple of days away to enter in March 2018 which is long awaited by LDA City files holders for balloting. In the property market of Lahore, LDA City balloting and its significant impact on plot prices have become talk of the town. Not only concerned file holders are curious about balloting date and pricing after that but all investors and real estate agents also waiting desperately for the said development. Development in LDA City is going on steadily like as equally encouraging factor as its balloting. In the context of current scenario, LDA City plot prices have started increasing fractionally and will have a significant increase but a lot is dependent on balloting and post-balloting situation.
LDA City Plot Prices & Market Situation
As per current market rates a fractional increase has been seen in 5 Marla Exemption letter files are now touch 18 lacs mark. 10 Marla (near 28 Lacs) and 1 Kanal (43 Lacs) exemption files are getting short in the market as sellers are eyeing on more profit through these files rather than 5 Marla files. Huge demand and less supply may be a reason in this case, however in either case, it will boost the morale of existing files holders. We have to be realistic that prices will go up steadily after balloting or at its announcement, but won't go up instantly until the exact date is given.
More Buyers and less Sellers in The Market
The higher number of buyers in property market always indicate rise in its property value. Today we are witnessing the same for LDA City where buyers are more in numbers and it will increase when the balloting time will be near.
Time to Set Your Target/Profit
As a wise piece of advice, the time has come to set your target amount or profit if you hold LDA City exemption file. It must be realistic and should not sound impractical if you are serious to get something from this development.
The External Factors
The internal development on site is most important for LDA City future. As far as external factors which buyers think can affect LDA City, they are mistaken. LDA City future is lined with its timely development and balloting as soon as possible and nothing else, so keep hold of your files and get maximum out of them at the right time.
For LDA City Balloting Date, stay connected with Universal Property Network (UPN).