Liberty Lands Lahore Balloting Date Announced – 07 Nov, 2022
by UPN
June 20, 2022
0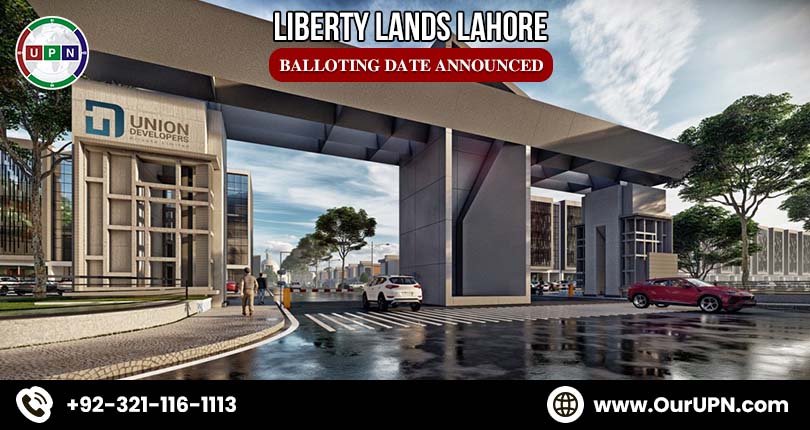 Liberty Lands Balloting Update (07 November 2022)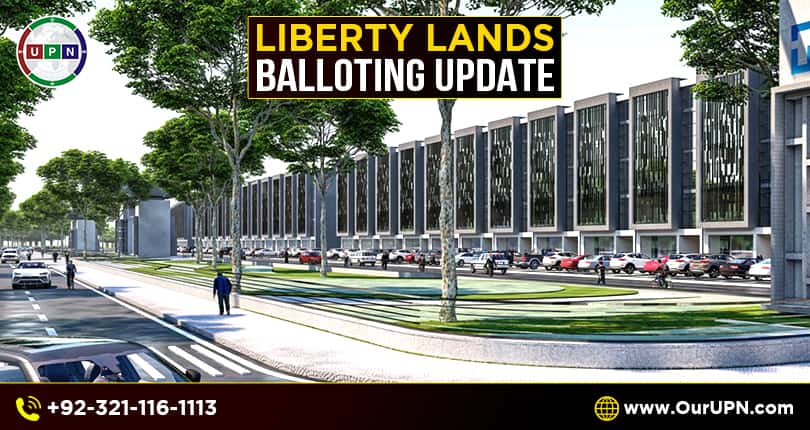 Liberty Lands balloting date is announced. Congratulations to all the investors who have been waiting for this important announcement. It's an important step by the Union Developers to facilitate its clients with the best. The time to get the locations of your plots is near, be ready for it.
Liberty Lands Lahore is a premium housing society, a significant housing development in the city's heart. It is LDA approved society covering 373.55 Kanal of land. Located ideally, this project is easily accessible. Bringing beneficial residential and investment opportunities, this society is incredible for several reasons. This society will be fully facilitated, and have a green and clean environment, it's a modern community that will consist of properties, you will love to choose from. It offers the best plots for sale in Lahore. Most importantly, the availability is on easy installments. Soon new deals of apartments and villas are launching in this project. So, if you want to get something as per your expectations, keep your capital in hand.
Liberty Lands Balloting Date
The balloting of Liberty Lands plots is going to be held on 30th November 2022. Till then, investors can pay their remaining installments. All the updated files with clear payments will become part of this upcoming ballot.
What to Expect from Liberty Lands Lahore Investment?
This society since its inception is in the news. It holds significant importance in the heart of investors as designed exceptionally. One of the major reasons for people's interest in this project is the reliable developers. Also, no one can ignore the brilliant town planning, speedy development, and properties on easy installments. Just after the society's announcement, there was a handsome profit amount on booking. Many have earned well even in the first few days of booking begins.
The current market of Liberty Lands Lahore is also going smoothly. Perhaps there are several ups and downs in the property sector in Lahore also affecting this society, but overall, it's a beneficial investment. Once the country's economic conditions are stable, it will also show positive results in the real estate sector. This project is profitable from day one but investors who had missed the chance to invest earlier can now invest confidently. Liberty Lands balloting is announced but still, it has huge potential for investment.
At the same time, the investors who own multiple open files of Liberty Lands are recommended to hold them. Once the balloting process completes, it will surely be a reason behind the prices increase. Your investment will grow speedily.
Who is Eligible for the Upcoming Ballot?
You must have made at least two property payments to be eligible to take part in the balloting.   Furthermore, there cannot be any unpaid payments made to the developers. This makes sure that only serious and dedicated customers are taken into account for the ballot. Don't pass up the opportunity to be a part of Liberty Lands ballot since it is guaranteed to be a success! All the plot files with updated payments will be part of this ballot taking place in the next couple of weeks.
Currently, development on the Liberty Lands Housing Scheme is continuing. Here, construction work has already begun. The cost of the properties will start to rise over time. Therefore, now is the ideal time to invest and make your future bright. It's a perfect chance for Investors, a fantastic opportunity to benefit from short-term investments.
Latest Opportunities in Liberty Lands Lahore
This society is launched with the best residential plots of 5 Marla available at pre-launch prices. The commercial plots for sale are 2.66 Marla and 5.33 Marla. However, these plots can only be purchased by paying a good profit amount. But don't worry as still there are some options you can get at reasonable rates. The available options are:
Residential Plots on Installments in Lahore
| | | | |
| --- | --- | --- | --- |
| Plot Size | Total Price | Down Payment | 8 Quarterly Installments |
| 5 Marla | 3,775,000 | 695,000 | 385,000 |
Commercial Plots on Installments in Lahore
| | | | |
| --- | --- | --- | --- |
| Plot Size | Total Price | Advance | 8 Quarterly Payments |
| 5.33 Marla | 17,995,000 | 3,595,000 | 1,800,000 |
Your investment in this society will be 100% secure and return you high. So, don't waste your time thinking about this or that. Make the right time decision and invest today in one of the best societies of Lahore by contacting UPN!
________________________________________________________________________________________________
Liberty Lands Lahore Balloting Updates. (June 20, 2022)
Liberty Lands Lahore balloting is the most awaited event. Perhaps it's a newly launched housing society, but its developers' glorious reputation, planning, and numerous investment opportunities have made it valuable. Many investors have invested their capital in the plots for sale in Liberty Lands Lahore. These affordable price options come with bundles of amenities, including the easy payment plan. Providing people with a chance of suitable investment within budget, this society holds so much importance. Starting from its location, features and facilities, it appears to be the best project in Lahore to invest in.
Liberty Lands Lahore Balloting Date
The balloting of Liberty Lands Lahore will take place in August 2022. Congratulations to all the file holders of this appealing society who had confidently invested. The time for the balloting is not so far. So, to become part of this first balloting of Liberty Lands, please keep your files ready.
If you have an open file or any pending payments, make sure to clear it. All the updated files till August 2022 will be included in the upcoming ballot.
When Liberty Lands Lahore Development Work Start?
The Earth Breaking Ceremony of Liberty Lands took place on 15th February 2022. Recently, the balloting month is announced. At the same time, the management has officially announced to commence the development work after Eid-Ul-Azha 2022. Here we are assured that the development work will start appropriately by the next couple of weeks. This is another big news for the buyers of Liberty Lands as their investments will get secure further. Also, the time when your investment will get multiplied is near.
Investment Opportunities Available
This modern society offers the following sizes of residential and commercial plots for sale:
5 Marla Residential Plots
2.66 Marla Commercial Plots
5.33 Marla Commercial Plots
Also, all these plots are available in the old and new deal. (Please note: both old deal and new deal plots are available on own amount. It means you will have to pay some premium amount along with a down payment).
Following are the complete prices and payment plan details:
Old Deal Payment Plan Liberty Lands
| | | | |
| --- | --- | --- | --- |
| Plot Category | 2.66 Marla Commercial | 5.33 Marla Commercial | 5 Marla Residential |
| Down Payment | 1,195,000 | 2,275,000 | 475,000 |
| Installments (8 Quarterly) | 850,000 | 1,590,000 | 340,000 |
| Total Price | 7,995,000 | 14,995,000 | 3,195,000 |
New Deal Payment Plan Liberty Lands
| | | | |
| --- | --- | --- | --- |
| Plot Category | 2.66 Marla Commercial | 5.33 Marla Commercial | 5 Marla Residential |
| Down Payment | 2,695,000 | 4,775,000 | 995,000 |
| Installment (8 Quarterly) | 850,000 | 1,590,000 | 340,000 |
| Total Price | 9,495,000 | 17,495,000 | 3,995,000 |
Liberty Lands Lahore Developers
It is a masterpiece by Union Developers. These developers have a team of experienced professionals who can handle real estate projects very well. Furthermore, their services are up to the mark and they delivered high-standards projects as clear from their past records.
The builders, equipment operators and labour at Union Developers all work together seamlessly to ensure the quality development and timely completion of their projects. At the same time, all of their projects are always designed as per the latest architectural trends and ideas. Some of the top projects by developers of Liberty Lands Lahore are:
Etihad Town Lahore Phase 1 and Phase 2.
Etihad Garden Rahim Yar Khan.
Union Livings/Etihad Town Phase 3 Lahore.
Union Luxury Apartments Lahore.
Conclusion:
Liberty Lands Lahore balloting month is announced. The exact date of balloting will be disclosed soon. All the file holders of this state-of-the-art project should keep their files ready and updated. So, that they can confidently become part of society's first ballot. Once the balloting is done and development work proceeds, the profit amount of the plots will increase. So, this is the right time to invest in this project.
The best residential and commercial plots, top-class amenities, and secure and profitable investment await you at Liberty Lands Lahore. Contact our experts at UPN to get the best deal on plots in this modern project at the best prices
Please contact Universal Property Network For More Information click here or visit our Youtube channel for further assistance.