Liberty Lands Theme Park Commercial Plots
by UPN
June 25, 2022
0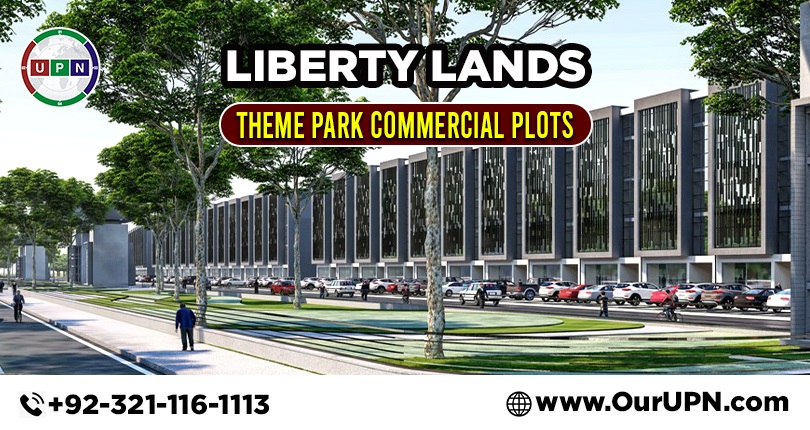 Liberty Lands Lahore is an emerging, beautiful housing society. It is planned on modern terms and ideas, offering profitable investment and a peaceful living environment. Liberty Lands Theme Park Commercial Plots is a recent addition to this society. It offers you new deal commercial plots on installments. This society is already attracting investors by providing a chance for profitable real estate buying in residential and commercial plots. But these new deal plots are exceptional in terms of location, prices, and on the top easy installments plan. Further details are:
Liberty Lands Theme Park Commercial Plots
Union Developers proudly presents you with a commercial plot new deal. These are 5.33 Marla commercials. Facing Theme Park, the launching price of these commercial plots is 17,995,000/-. The booking of the plots starts from 3,595,000/- only. Moreover, the remaining amount will be payable in 2 years flexible payment plan. This payment plan contains 8 equal quarterly installments of 1,800,000/-. The possession of the plots will be available within 1 year of booking. Following is the complete payment plan:
| | | | |
| --- | --- | --- | --- |
| Plot Size | Total Price | Advance | 8 Quarterly Payments |
| 5.33 Marla | 17,995,000 | 3,595,000 | 1,800,000 |
Location of Commercial Plots
Whenever we plan to invest in any property, we first focus on the location. Having a prime location property, especially commercial plots, attracts huge investment. Undoubtedly, every buyer desire to get a commercial with a heart-winning location and easy access but also at affordable rates. Getting all these things together seems a difficult task. But don't you worry, Union Developers has launched something exceptional, the best even more than your expectations. These are Theme Park Facing Commercials. It means all these plots will face the iconic Theme Park, which offers you incredible investment and business chances.
On the other hand, the overall location of Liberty Lands Lahore is outstanding. This society is located ideally in the developing societies hub and commercials. Nearby, you will find the best shopping malls, hospitals, bank branches, and educational institutes. Liberty Lands is actually located at the prime location of Jia Bagga Road near LDA City Ring Road Interchange. The nearest housing society is Park Avenue Lahore which features maximum development. At the same time, this project is at the back of Lake City Lahore.
Some of the other nearest and renowned projects are Khayaban e Amin, DHA Rahbar, Zaitoon Lifestyle, Naval Anchorage, and LDA City Lahore. Anyone can easily approach this place from LDA City, Haloki Ring Road Interchange, Defence Road Lahore, UOL and Adda Plot Raiwind Road. Also, the distance to Gulberg Lahore and Liberty Market is around 40 minutes drive.
Reasons to Invest in Liberty Lands Theme Park Commercial Plots
Every commercial in this society is attractive, but these Theme Park facing commercial plots are heart-winning. You should invest in these plots because:
Ideal Location Near the Main Attraction of the Society
Affordable Launching Rates and Booking Amount
Remaining in 2 Years Installments
Possession Within 1 Year of Booking
Spacious Commercial Plots
Construction of Ground + Several Plots is Allowed
High Return on Investment
Appealing to Setting Up Your Business
100% Valid NOC
Buying in these newly launched commercial plots is beneficial equally for businessmen, investors, and people looking for good rental gains. These are high-in-demand plots where your investment will benefit a lot. The development work of these plots will begin within a couple of weeks. So, the profit amount will increase too.
Is Liberty Lands Commercial LDA Approved?
Not only this new deal of plots is approved by authorities, but also the entire project has a valid NOC. Your investment will be secure and 100% legal.
When the Possession of Plots will be available?
The possession of commercial plots will be available within 1 year of booking. The other commercial plots and residential plots possession will be handover within 2 years of launch.
Who are the developers of Liberty Lands Lahore?
This society is proudly presented by Union Developers. The owner of this society is Main Amir Mahmood.
When the Development Work will Start in Liberty Lands Lahore?
The development work of this project is already started. Moreover, commercial development will begin within a couple of weeks.
Is it Good to Invest?
Yes, the investment will surely be worth both residence and investment.
Please contact Universal Property Network For More Information click here or visit our Youtube channel for further assistance.