Limited Numbers of 125 Sq Yards Villas in Precinct 11A – All Latest Updates
by UPN
January 9, 2019
0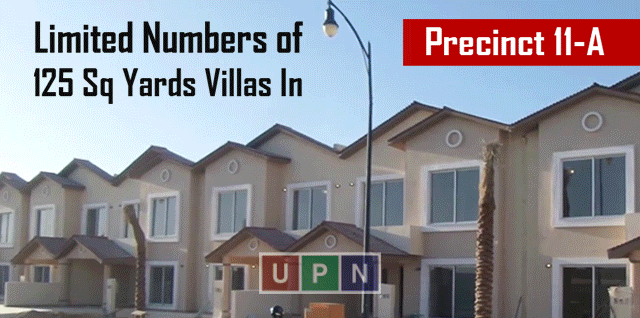 Bahria Town Karachi is a place where the demand of plots, villas and apartments is never-ending. The interest of buyers and investors in this largest housing project of the country is increasing day by day. These days, the demand for the luxury villas of 125 sq. yards is much increased. The villas are located in Precinct 11A are considered on the top. These beautiful villas are designed just like the luxury Iqbal Villas of Precinct 2. But the only difference is that of the land.
Precinct 11A is located at the top hills. This is one of the nearest precincts to Ali Block and Grand Jamia Mosque. The possession of 125 sq. yards villas in Precinct 11A is announced so far. In fact, Precinct 11A has already inhabited the area where numbers of families are already enjoying the international standard of living in Bahria Town Karachi.
The architecture, beauty, and luxuries of these 125 sq. yards villas in Precinct 11A are not less than the Iqbal Villas. The only difference is the limited numbers of villas and economical prices as compared to them. So let's discuss the further details.
Precinct 11A – Location Overview & Attractions
Precinct 11A is located near the heart of Bahria Town Karachi that is Ali Block. Precinct 11A is positioned at the difference of 1 km from the Grand Jamia Mosque. Midway commercials are also located close to this precinct.
If we discuss other attractions and features of Precinct 11A, the well-designed and maintained the park that is a part of it remains at the top. A shopping gallery of Precinct 10A is another main attraction for these villas of 125 sq. yards.
Updated Prices of 125 Sq. Yard Villas
The villas of 125 sq. yards in Precinct 11A have launched almost 4 years ago at the price of 42 lacs. The installment plan for these villas is already completed. Now the villas of 125 sq. yards are available at the price bracket of 85 lacs to 95 lacs. The prices of the villas are reasonable as the possession is already available and these are located at the ideal location, where families are enjoying every moment of their life in Bahria Town.
Luxurious Residence & Investment Analysis in Precinct 11A
These villas are ideal to make your dream come true to have a luxurious residence in Bahria Town Karachi. Lots of attractions and facilities make this precinct an outstanding option to enjoy the luxury living style that you always dreamed of. Making an investment in these villas to earn a handsome return is also another option for you. The numbers of available villas are definitely limited so it's the right time to invest and earn a promising return in a short-term period.
For more updates and the latest property trends, keep in touch with Universal Property Network.