New Police Post Established in DHA Islamabad
by UPN
January 9, 2019
0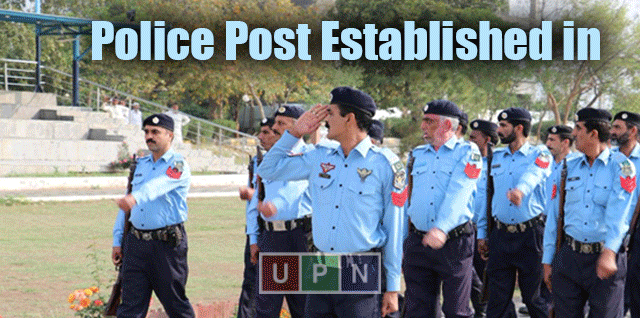 Defence Housing Authority (DHA) Phase 11 Islamabad is now facilitated with the establishment of the new police post.
The purpose of this establishment is to improve the security arrangements and for watchfulness in order to protect the citizens from criminals. Muhammad Amir Zulfiqar, Inspector General of Police (IGP), coordinated with the administration of DHA for this new check post in phase 11.
Police Post Inauguration DHA Islamabad
Muhammad Umer, Superintendent of Police (Rural) formally inaugurated and major personalities like ASP Muhammad Essa Khan, Sub-divisional Police Officer Sihala, Station House Officer Sihala Malik Basheer Ahmed, other police officials, notable personalities of the area and representatives of DHA administration. Highly qualified staff and policemen will be appointed in order to secure the area and keep the people safe from any criminal incident. Moreover, they all be appointed at multiple shifts.
The citizens over there at DHA Islamabad are admiring this radical step of Islamabad police and are hopeful that this will help to fight the crime in DHA. In case of any crime incident, citizens have to give information to the policemen for prompt action. The security arrangements of Sihala area and throughout the district are reviewed by Senior Superintendent of Police Operations Waqar Uddin Syed. He has also ordered the SHOs that patrolling and security measures should be effective in these areas. SSP has ordered high protection to arrest the criminals and keep an eye on the ones who are supporting crime.
SSP said that it is the responsibility of the police to protect the citizens and their properties.
DHA – Defence Housing Authorities in Pakistan
Defence Housing Authority controls the housing for Defence neighborhoods in Pakistan. It is primarily created for environment-friendly and safe infrastructure. Other than DHA Islamabad, there are also other housing authorities like DHA Karachi, DHA Lahore, DHA Bahawalpur, DHA Multan, and DHA Gujranwala.
DHA Islamabad is not only an excellent place for living but is also an apt area for investment. It is also a symbol of an inspiring lifestyle. It is divided into 5 parts and is located within Islamabad-Rawalpindi metropolitan area.
Another good news is that now the property dealing in DHA is a lot easier! You just need to contact Pakistan's largest real estate network UPN and let the expert agents know that what sort of guidance you require. UPN also keeps an eye on the latest news related to properties and latest happenings in Pakistan. For getting to know such information, subscribe to the newsletter or view the latest news webpage.