Lowest Prices 8 Marla Plots on Raiwind Road Lahore
by UPN
April 8, 2022
0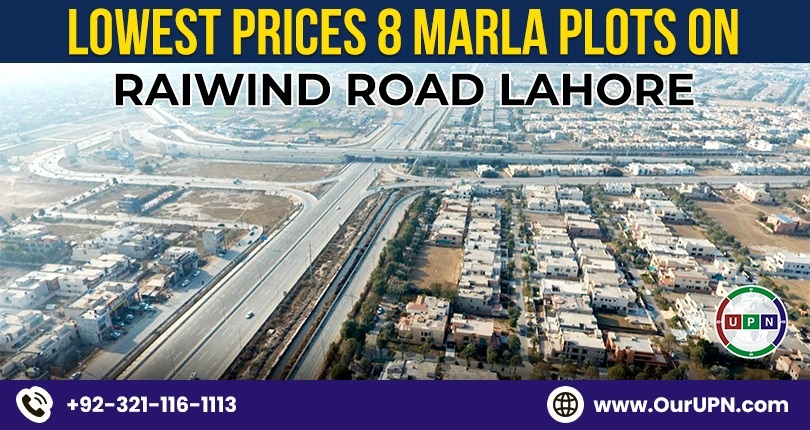 Raiwind Road is one of the most popular arteries of Lahore. It is known for significant reasons, including its development as a hub of modern housing societies. Undoubtedly, Main Raiwind Road is developed with several beautiful, well-planned, and affordable projects where the best residential and commercial options are available. But still, many of the investors usually ask for 8 Marla plots on Raiwind Road. Why 8 Marla? Because it's a better option than 5 Marla plots. This category of plots offers more construction space and is also affordable.
So, if you wish to get 8 Marla plots in that locality, we have some cheapest prices options. Details are:
8 Marla Plots on Raiwind Road Lahore
This major artery of Lahore is impressively developed with a range of attractive housing societies. But the one project which always won over others is Bahria Orchard Lahore. It's a masterpiece, an ideal housing venture by Bahria Town Pvt. Ltd. Designed and developed in four phases; it offers the best 8 Marla plots on Raiwind Road Lahore. You can easily purchase these plots in:
Bahria Orchard Phase 2
The lowest prices residential plots of 8 Marla are available for sale in J Block and H Block of Bahria Orchard Phase 2. Both these blocks are perfectly located adjacent to each other. The location of J Block and H Block is also prime. You can easily approach them from Bahria Orchard Gate no 1, Gate No 2, Gate no 5, and also Gate no 6. In other words, these two beautiful blocks are accessible from Raiwind Road Lahore, Sundar Road Lahore, and Jati Umrah Road Lahore. These multiple accesses undoubtedly add more charm and value to J and H Blocks.
Development Status
The development updates of these two blocks are very much impressive. These two blocks are 100% developed. Yes, all the infrastructural work is completed so far. Even these blocks feature 25 – 30% construction. Also, a good number of families are living there. All these living amenities like electricity, gas, and water are available in J and H Blocks. Moreover, a beautiful mosque, a zoo, and well-maintained parks are operational.
8 Marla Plots Prices in Bahria Orchard Phase 2
The prices of plots in Bahria Orchard J Block and H Block are surprisingly affordable. These plots are available at the starting prices of 55 lacs to 75 lacs. A normal location plot will cost you less than buying a prime location plot with an impressive front. All these are on-ground, fully possession plots. However, you can only buy them in lump-sum payments.
Bahria Orchard Phase 3
Another excellent option for purchasing 8 Marla plots on Raiwind Road Lahore is Bahria Orchard Phase 3. It's a well-developed phase of this society featuring the residential plots of 8 Marla only. These plots are also on-ground and possession available. But here the prices start from 60 lacs to 85 lacs. These plots are also affordable and come with all the modern-day amenities essential to construction or investment.
Other Ideal Options of 8 Marla Plots in Lahore
Well, all these above–mentioned blocks offer the lowest priced options. But if you have a good budget to buy 8 Marla plots on Raiwind Road Lahore, we suggest you invest in:
Block B, C, and D of Bahria Orchard Phase 2
These blocks have outstanding locations and easy access. All these top-class living facilities are provided. Most importantly, C Block has the attractive development of Bahria Town Head Office, which further boost the worth of property available nearby.
Buying these plots will cost you 60 lacs to 85 lacs. A general location plot of 8 Marla is available in the range of 66 lacs to 75 lacs.
Please Note: All these are secure and profitable investments and residential options in Bahria Orchard Lahore. Investment in these residential plots will surely return you huge profits in the next 2 – 3 years. The prices of these J Block, H Block, and Phase 3 plots will increase to double with the increasing construction and inhabitation.
So, contact us to get the best plots for sale in Bahria Orchard Lahore right now! Universal Property Network is always there to provide you with the best property deals.
Please Contact Universal Property Network  For More Information click here or visit our youtube channel for further assistance