Midway Commercial A Side Bahria Town Karachi – All You Need to Know
by UPN
November 19, 2018
0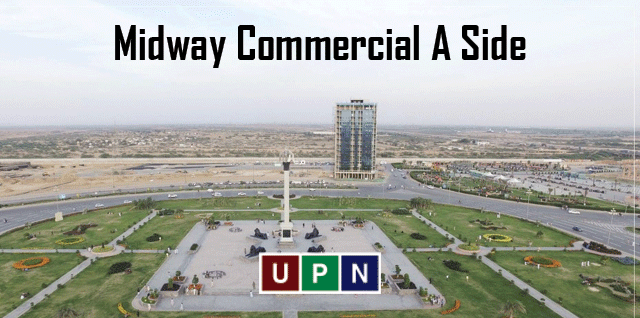 Bahria Town Karachi is the beautifully designed housing community. There are many options of residency like the plots, villas, constructed houses, and apartments in it. But moving forward, Bahria Town Karachi is also designed with an amazing commercial area. These Midway Commercials plots of 125 sq. yards owe great importance as you can invest in them and can get a good monthly income as rent. Basically, these Midway Commercials are divided into two sides, A-side and B-side. Today, in this blog, we are here with the detailed location overview, attractions, prices and investment perspective in Midway Commercial A-side. All the details are given below.
Midway Commercial A Side – Location Overview
Midway-Commercial A-Side is located at the ideal location of the Bahria Town Karachi. These 125 sq. yard plots are located at a distance of 2 to 3 km from the Main Entrance. These Midway Commercials are basically facing the Main Head Office of Bahria Town Karachi. If we discuss the attractions close to these commercials than theme park is located opposite to it and the new booking of Liberty Commercial are also located close to this A-side commercials.
Midway Commercial A Side 125 sq. yards Plots and their Prices
These plots of 125 sq. yards in Midway Commercial A-side were launched at the price of 1.5 crores on the easy installment plan. But as all the installments are already completed, the price of these commercial plots is also increased. Now the plot of 125 sq. yard in Midway Commercial A-side will be available to you at the starting price of 3.5 crores to maximum 4 crores. There is a price difference in plots depending on the location.
Midway Commercial A-Side Development and Possession Updates
The development of these Midway commercials A-side is 100% completed. You can physically visit these 125 sq. yards. The possession for these commercial plots has been already announced so far. The construction of many plazas is completed in this commercial area. You can also buy your plot and start building just getting the approval from Bahria Town Karachi.
Midway Commercial A-Side Investment Perspective and Ideal for Rent
These 125 sq. yards plots are best for investment. The price of these plots appears high but making an investment in midway commercial plots will return you good profit. You can sell out the property after construction or can use it for rent. The demand for commercial shops and plazas is very high in Bahria Town Karachi, so it is highly- recommended to invest in these 125 sq. yard commercial plots.
For booking or any other details contact Universal Property Network.