Precinct 24 Bahria Town Karachi-Latest Updates
by UPN
November 19, 2018
0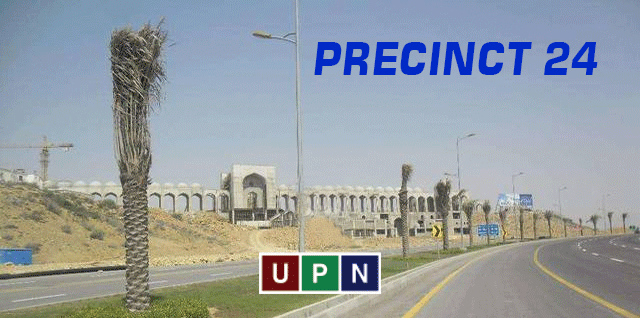 Bahria Town Karachi is one of the largest and the wonderfully designed housing project with unmatched facilities and feature. This largest housing project of Karachi is artistically divided into many blocks and precinct. Among all these precincts the one hot-favorite for 125 sq. yards plots are its Precinct 24. This precinct is all comprised of 125 sq. yards plots in it. The installment plan for these plots has been completed so far. Now you can buy a 125 sq. yards plot at the full cash payment. Precinct 24 is grabbing the attention of end-users and the investors as the location and the economical prices of the plots make this place most attractive in Bahria Town Karachi. Here we have all the details of the Precinct 24 given below.
Precincts 24 Bahria Town Karachi – Location Overview
Precinct 24 is located at the outstanding location. This precinct appears hot-favorite among buyer it has the central location in the housing community. The location of Precinct 24 can be easily identified as it is located close to Jinnah Avenue Commercial Area and opposite to Bahria Golf Club. The outclass location of Precinct 24 will make it easy for you to access the best shopping area that is located at the drive of 5 to 7 minutes.
Precinct 24 Bahria Town Karachi – Updated Plot Prices
In Precinct 24, the plot cuttings of 125 sq. yards are available at the most reasonable rates. This 125 sq. yards plots were launched at the price of 17.25 lac on the easy installment plan of 4 years. As the installments are already completed, now these plots are available at an average price of 19 lac to 22 lac. These 125 sq. yards plots of Precinct 24 are economical in prices as compared to Ali Block of Bahria Town Karachi. The price of 125 sq. yards plots in Ali Block is about 30 lac. It is expected that the possession will be soon announced and that will definitely increase the plot prices of the property in Precinct 24.
Precinct 24 Bahria Town Karachi – Investment Potential
Making an investment in Precinct 24 for building a dream home or to get a handsome profit seems best in Precinct 24. This precinct of Bahria Town Karachi is all designed with all the facilities and surrounded by many attractions. These plots of 125 sq. yards are best for residency and investment. Another value-added point is that the second Main Entrance of Bahria Town Karachi is planned to be designed close to this Precinct 24. It's the right time to buy your plot in Bahria Town Karachi as the prices of this 125 sq. yards plots are affordable and budget- friendly.
Universal Property Network is an authorized dealer in Bahria Town Karachi. It's a trusted name in term of sale and buying property. So, if you are searching for any details just make a contact with UPN realtors.