Naval Anchorage Gwadar Groundbreaking on 28th February – Latest Update
by UPN
February 15, 2018
0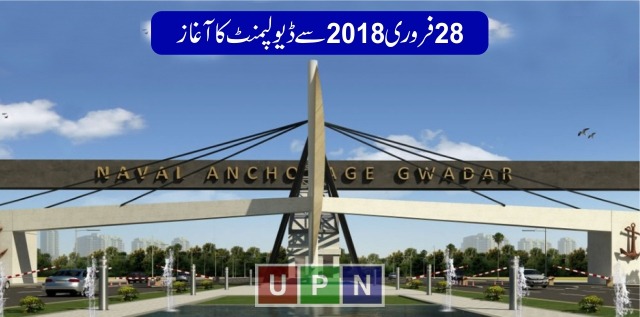 Naval Anchorage Gwadar is one of top housing projects launched in the port city in August 2017. Since then, it is on the wish list of buyers (investors) who are looking to get most out of this land of opportunities. Being a welfare project of Pakistan Navy, buyers' interest and trust gets double folds as success of Islamabad project is already on its credit. Approved by Gwadar Development Authority, this residential scheme has massive expansion covering an area of 1450 acres to offer world-class amenities. After been done with the balloting; now we head to Naval Anchorage Gwadar Groundbreaking to start development activities on the site.
Naval Anchorage Gwadar Groundbreaking on 28th February
Earlier in previous month, we have informed you that Naval Anchorage Gwadar development is about to start soon and now it is around the corner. The Groundbreaking for Naval Anchorage Gwadar is scheduled to be held on 28th February on site near Zero Point, 20 Km from Gwadar Port. All concerned who want to be there at groundbreaking ceremony can register themselves following due course and procedure by contacting their offices/helpline.
Naval Anchorage Gwadar Down Payment Deadline Extended
Initially, the deadline for submission of down payment was 31st January. Upon consideration on a number of requests received from customers, management extended it till 15th February. However, administration clarified that it won't be extended further.
Transfer/Sales of Plot Files or Information Letters in Process
The Naval Anchorage plot files and information letters are now open for transfer or sale through its regional offices. These transfer offices are operating in Islamabad, Karachi and Gwadar.
Impact of Naval Anchorage Gwadar Development on Plot Prices
The commencement of development soon after Naval Anchorage balloting will have a great deal of impact on its plot prices. Currently, property rates in Gwadar are quite affordable but with the passage of time and development proceedings, it will go up gradually in future. Naval Anchorage Gwadar plots prices will surely increase depending upon the development pace.
For more updates and latest information, subscribe to our daily newsletter.