Naval Anchorage Karachi Expected to Be Launched Soon – Location, Booking Details, Map, Payment Plan
by UPN
May 25, 2018
6 Comments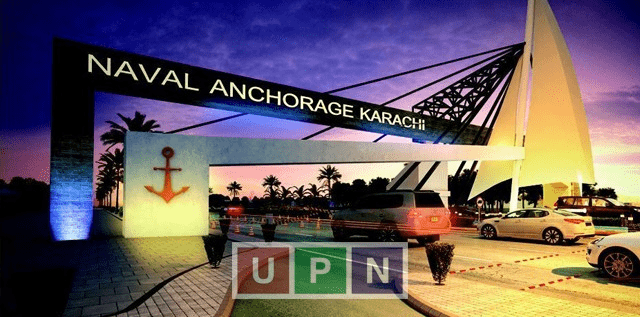 Naval Anchorage Karachi is going to be the third housing project of Pakistan Navy Benevolent Association after Naval Anchorage Gwadar and Islamabad. Though the administration has not disclosed any detail in this regard, but this upcoming housing society has taken the market by storm. Naval Anchorage Karachi registration forms will be issued within 45 days and reportedly some dealers have started bookings on token amount. Buyers and dealers are anxiously waiting for Naval Anchorage Karachi launch.
Naval Anchorage Karachi launch and Location
Let's see when management officially announces the launch date. Naval Anchorage Karachi location will be on Main Super Highway around amidst the area where city's top new housing projects are positioned. Mega residential projects like DHA City Karachi and Bahria Town Karachi will be in its proximity as the entire area will shape into new developed town.
Naval Anchorage Karachi Map
It will be too early to discuss Naval Anchorage Karachi map as it is not officially launched yet. We will update you in this regard when it goes to that particular stage.
Naval Anchorage Karachi Plots Rates
Initially, the 500 sq. yards dealer quota files are available in the pre-launch phase. There might be some other cuttings too which will be offered later on, but at the moment it cannot be confirmed.
Naval Anchorage Karachi Booking Details
The pre-launch bookings of Naval Anchorage Karachi are underway for 500 sq. yards dealer quota files. These dealer quota files are available at easy payment mode; token money and followed by remaining amount within 45 days.
Naval Anchorage Karachi Payment Plan
Naval Anchorage Karachi price for dealer quota file of 500 sq. yards is Rs. 35 lacs. 20% of the total price will be paid as token money while remaining 80% is payable within 45 days. Here is the payment plan simplified in figures.
| | | | |
| --- | --- | --- | --- |
| Category | Token Amount (20%) | Balance (80%) | Total Price |
| 500 Sq. Yard (Dealer Quota File) | 700,000 | 2,800,000 | 3,500,000 |
It will be interesting to see if Naval Anchorage Karachi balloting and development is done on the pattern and timeframe of Naval Anchorage Gwadar or not. It's too early to predict all these matters so let's wait and watch how the things shape up and what is offered to the buyers. Only time can answer all these questions, so till then stay tuned with us.
Naval Anchorage Karachi Coming Soon – Official Advertisement
Naval Anchorage Karachi is coming soon as we got the hint from official advertisement published today (20-06-2018) in Daily Express. Though it did not mention launch date at the moment but we can expect it in near future and we will keep you updated in this case. The advertisement includes location map and details of authorized dealers.
Naval Anchorage Karachi Location Map
Naval Anchorage Karachi is located on Super Highway (M9) near to New Toll Plaza having Bahria Town Karachi and DHA City Karachi in the vicinity. Its location gives direct and easy access to the central areas of the city.
Features & Amenities
Naval Anchorage Karachi is a state-of-the-art community living project which provides safety, security, healthcare, quality education and ultimate ease of access. Following are some highlights of Naval Anchorage Karachi's features and amenities initially.
• Gated Community with 24/7 Fool Proof Safety 
• Secure Environment
• Quality Educational Institutes (School/High School)
• Mosques & City Parks
• Fitness Gyms & Spas
• Theaters • Golf Courses
For more updates and latest information about Naval Anchorage Karachi launch, please keep visiting Universal Property Network (UPN).