New Expected Property Deals in Bahria Town Karachi – Latest 2021
by UPN
March 8, 2021
0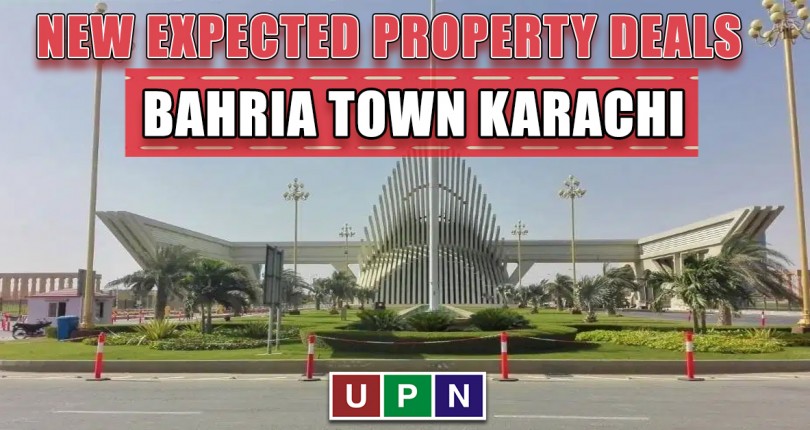 Are you looking to buy a 125 sq yards plot in Ali Block Bahria Town Karachi? But also desires to buy it on the open form? Or are you searching for the best commercial plots to run a successful business? Or you are planning to invest in Sports City Villas, but the prices are high, and you can't afford them? If yes, then don't be worried as Bahria Town Karachi is soon launching some new property deals for you.
The new expected property deals of Bahria Town Karachi will be launched officially in:
Precinct 12 (Ali Block)
Sports City Villas
Precinct 10B Villas
Before sharing further details, we would like to mention here that these are upcoming/expected deals, not officially launched yet.
New Deal of Residential Plots in Ali Block
Precinct 12, also known as Ali Block, is the topmost favourite precinct of Bahria Town to buy 125 sq yards residential plots. It is a well-developed, ideally located precinct with maximum construction. 125 sq yards plots in Precinct 12 are available at higher rates as compared to the other precincts. The reason behind these high prices is the high demands and increasing population ratio.
By focusing on all these demands and investors' desires, Bahria Town is soon launching some new plots in Precinct 12. These will be the fresh plots of 125 sq yards offered on open forms. It means the prices will be affordable, plus no transfer fees will be charged to you. You will be the first owner of your plot in Ali Block, the heart of Bahria Town Karachi.
New Deal Commercial Plots in Precinct 12
Not just the residential but a new deal of commercial plots is also launching soon in Precinct 12. These are already existing, developed commercial plots located in the surroundings of Ali Block. The location of the plots is easily visible on the map of Precinct 12.
The size of these new plots will be 125 sq yards or 133 sq yards (not confirmed yet). Most likely, these commercials will be available on the installment plan. Bahria Town will allow the construction of ground + 5 or 6 storeys on them.
New Deal in Sports City Villas
The 350 sq yards of Bahria Sports City are among the most popular ready to shift properties in Bahria Town Karachi. These are thoughtfully developed villas with so many attractions and countless facilities. Possession announced and already populated; currently, the Sports City Villas are available at full cash only.
However, some of these villas were cancelled or blocked for several reasons, like the pending payments. So, Bahria Town management will soon launch these villas in a fresh deal on open forms. The prices of the new Sports City Villas will be attractive but the availability of full cash only.
New Deal of Precinct 10B Villas
Another exciting property deal of Precinct 10B Villas is launching soon in Bahria Town Karachi. This new deal of villas will include the 3-bedroom accommodation villas of 150 sq yards. Already developed and possession available, these villas will also be available in full cash only.
So, that all was about the upcoming official property deals of Bahria Town Karachi.
For further details like the date of launching, prices, and investment analysis, Contact Universal Property Network  .For More Information click here or visit our youtube channel