New Metro City Mandi Bahauddin – Location Map and Payment Plan
by UPN
August 27, 2022
0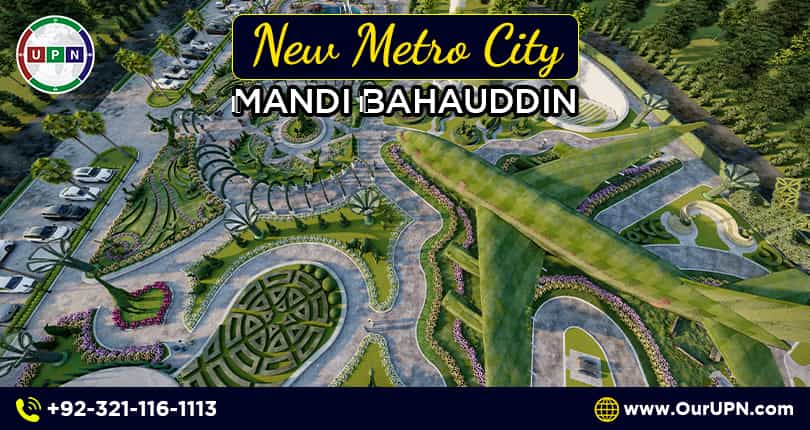 After getting huge success in New Metro City Kharian and Gujar Khan, BSM Developers announced the soon launch of New Metro City Mandi Bahauddin. The top developers of the country have disclosed their plan in the balloting event of Early Bird. Undoubtedly, BSM Developers are growing so fast by launching and developing high-standard residential ventures across the country. Now, the residents of Mandi Bahauddin will witness the expertise of these developers in New Metro City. Most importantly, the land for the development of this masterpiece is already purchased, soon you will see the speedy on-site development. Further details are:
New Metro City Mandi Bahauddin
Like the previous New Metro Cities, this New Metro City Mandi Bahauddin will have all the unique features of a modern housing society. It will be a high-standard development with a prime location, state-of-the-art infrastructure, wide roads, greenery, and provision of all top-class amenities. At the same time, it will offer a diverse range of residential and commercial plots for sale. You will surely get these opportunities at the lowest prices with a flexible payment plan. New Metro City booking in Mandi Bahauddin will begin shortly.
New Metro City Mandi Bahauddin Launch Date
As per the market news and some officials of BSM Developers, this top-notch venture is launching in September 2022. But here we are clearing that the dates are not yet confirmed by any official. You will surely get the confirmed dates soon. This society will be surely launched within a couple of weeks.
New Metro City Mandi Bahauddin Location
Checking the location of a project before the investment is one of the most important tasks. A good location plays a vital role in making a venture successful and popular among people. BSM Developers understand this fact very well. However, the exact location of New Metro City Mandi Bahauddin is not yet disclosed.
As per the market news, this society will be located on the outskirts of Kuthiala Shaikhan, Sargodha Gujrat Road near the city area. This New Metro City will be easily accessible within a short drive from the main city. All the top-class developments like good educational institutes, hospitals, and shopping centers are lying nearby. Following are the distances of this project from the major developments such:
It is only 10 mint drive away from Mandi Bahauddin City

Moreover, it is 15 mint drive away from Gojra City

Also, you can access it on 30 mint drive away from Malakwal City and 40 mint drive away from M2 Motorway Interchange

The distance of this project from Kharian and Gujrat is around 1.5 – 2 hours.
Overall, the location of this new, upcoming project is outstanding, and planned so well, to make it a promising investment.
Masterplan Details
New Metro City Mandi Bahauddin masterplan is one of the best things about this project. It's a place where people may access upscale living and investment opportunities due to the community's meticulous planning. The distinctive development, an extensive list of top-notch amenities, and state-of-the-art infrastructure give the area a distinctive feel that fosters a strong feeling of community among its inhabitants. The developers have planned and worked professionally on its masterplan by applying the most recent trends and techniques. They have a history of excellence, high quality, and an exclusive approach.
Plots for Sale in New Metro City Mandi Bahauddin
Like several striking features and attractions, the plot sizes and categories in this New Metro City are outstanding. This project is offering a diverse range of options in residential and commercial categories. You will find the following sizes of plots such as:
3 Marla Residential Plots
5 Marla Residential Plots
7 Marla Residential Plots
10 Marla Residential Plots
1 Kanal Residential Plots
2 Marla Commercial Plots
4 Marla Commercial Plots
8 Marla Commercial Plots
New Metro City Mandi Bahauddin Payment Plan
The next important thing to consider and check after location is the prices and payment plan. New Metro City Mandi Bahauddin payment plan is launching soon. This society's management has planned the entire project perfectly including the booking and launching rates. You will be soon able to get the best plots in Mandi Bahauddin at reasonable rates. Booking will start shortly.
The details of the payment plan will be available in the next couple of weeks. We UPN will surely update you with it.
About Developers
New Metro City Mandi Bahauddin is a project by BSM Developers. This firm is owned by the Grand Son of Mr. Malik Riaz, the top developer and property tycoon of Asia. These developers have entered in the real estate sector with the launch of Gwadar Golf City. Soon after that, the launch of another masterpiece known as New Metro City Kharian. This society is exceptionally designed and developed as per the latest standard. After it, they moved ahead with New Metro City Gujar Khan, a society that collected huge success.
Now they are ready to launch another outstanding project in Mandi Bahauddin. The purpose of this high-level development is to provide people with an ideal chance to upgrade their living standards. Also, it brings new investment opportunities for everyone.
Amenities You Will Enjoy
New Metro City in Mandi Bahauddin will be a fully-facilitated space. You will surely get a chance to enjoy your living at the best. The following amenities will be available for you at this latest venture such as:
Completely Secure Gated Community

24/7 Security System and CCTV Cameras

Beautiful and Wide Entrance and Boundary Wall

Business Commercial Hub

Community Center as well as Sports Club

Lush Green Parks and Eco-Friendly Environment

Up to Date Education Facilities

Grand Mosque and Mosque in Every Block

Healthcare Facilities

Proper Sewerage and Waste Disposal System

Underground Electrification Wiring and Provision of Basic Amenities

Clean Water and Sui Gas

Neat and Clean Surroundings
New Metro City is undoubtedly a masterpiece launching soon at the prime location of Mandi Bahauddin. You're living and investment both will be beneficial there. So, keep your investments ready to invest in this state-of-the-art project once the booking starts.
Frequently Asked Question
Here are the answers to the commonly asked questions:
Is New Metro City Mandi Bahauddin Approved by Authorities?
The details of society's approval are not yet disclosed. However, we expect its soon approval from the relevant authorities.
Who is the Owner of New Metro Cities in Pakistan?
All these are top-class projects by BSM Developers owned by Bilal Bashir Malik (The Grand Son of Malik Riaz).
When the Possession will be Available in New Metro City Mandi Bahauddin?
The possession of plots in this outstanding venture will be available within 1 – 1.5 years of booking.
Please contact Universal Property Network. Visit our Youtube channel for further assistance.